Kyunghyun Min, Ph.D.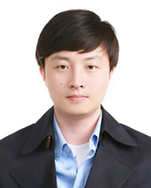 BG 35A RM GD953D 35A CONVENT DR BETHESDA MD 20892
Biography
Dr. Min received his B.S. degree in pharmacy from Kyung Hee University in Korea in 2006. He continued his education at the Department of Life and Nanopharmaceutical Sciences, College of Pharmacy, Kyung Hee University and earned his M.S. (2008) and Ph.D. degrees (2013). His Ph.D. project pursued the development and application of tumor-targetable, mineralized hybrid theranostic systems for tumor imaging and therapy. He was trained and did research on molecular imaging and nanomedicine using various smart nanocarrier systems at the Center for Theragnosis, Biomedical Research Institute of the Korea Institute of Science and Technology (KIST). In December 2013, Dr. Min joined Dr. Xiaoyuan Chen's Laboratory of Molecular Imaging and Nanomedicine (LOMIN), NIBIB. His current research interest focuses on the development of potent theranostic systems for diagnosis and therapeutics of various diseases.