Maryam Raftari, Ph.D.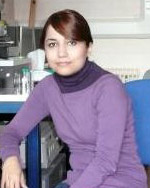 13 SOUTH DR RM 3N18 BETHESDA MD 20892
Biography
Dr. Raftari received her M.S. degrees in Physics from Sharif University of Technology in Iran in 2007 and worked in the Surface science and Nano Laboratory in Institute of Nano-Technology in the same University for the following year. Dr. Raftari obtained her Ph.D. degree in April 2013 in polymer physics from The University of Sheffield in United Kingdom, working with Professor Mark Geoghegan of thr Department of Physics and Professor Graham Leggett of the Department of Chemistry on nanoscale phenomena involved in tribology, i.e. the study of friction and interactions between functionalized Atomic Force Microscopy (AFM) tips and polyelectrolyte brush-coated surfaces. Dr. Raftari became a postdoc fellow in the Biophysics group at the George Washington University (Washington DC), specializing in AFM and Near Field Scanning Optical Microscopy (NSOM) and the mechanisms of biological processes from sub-cellular level to tissue cultures. In September 2015, she joined the Nanoinstrumentation and Force Spectroscopy Section in NIBIB/NIH in search of biomedical applications and developing new imaging techniques.
Research Interests
Dynamic biomolecular processes; Imaging and control the biomolecular interaction with Atomic Force Microscopy (AFM); Optical Microscopy for observation of intracellular processes in living cell cultures, cell/cell interactions.