Today's Vision, Tomorrow's Health Care
The 2012–2016 Strategic Plan of the National Institute of Biomedical Imaging and Bioengineering
Our Vision: From the Director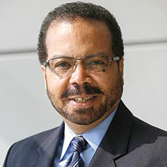 In 2012, the National Institute of Biomedical Imaging and Bioengineering (NIBIB) celebrated 10 years of incredible progress in leading biomedical science and technology innovations for health. The Institute now looks toward an even greater future building on the power of integrating engineering and the physical and life sciences to continue to transform medicine. We are driven by a mission centered on the convergence of biology and the quantitative sciences, with a vision of improved global health.
Fifty years ago, who would have imagined that we would be able to look deep inside the body with pinpoint accuracy and without ever scratching the skin's surface? The development of three-dimensional (3–D) medical imaging techniques such as computed tomography (CT), nuclear tomography including positron emission tomography (PET), and magnetic resonance imaging (MRI) have certainly revolutionized medicine.
Today, doctors use precise, sophisticated imaging methods not only to detect disease, but also to treat it. High-intensity, focused ultrasound can now be used to destroy uterine fibroid tumors and to stop the uncontrollable shaking of patients with essential tremors. CT and MRI technology help surgeons use minimally invasive robotic tools to remove or repair unhealthy tissue in the chest, abdomen, and pelvis. Many other advances in molecular and cellular imaging have had equally transformative effects, not only in treating disease but also in understanding its basis. This guides the path of discovery back to fundamental insights about the laws of nature and how the body works and can be healed.
Bioengineering has witnessed similarly remarkable changes. Research has yielded a new generation of powered and smart prostheses for people with injuries and disabilities. Research progress has made it possible to build artificial organs as well as 3–D tissues-on-a-chip that mimic natural functions. These chips and similar developments will significantly improve medication screening and testing. Wireless and sensor technologies have played pivotal roles in enabling point-of-care medical devices and telemedicine that will increase accessibility to health care in underserved communities.
Today we are setting the stage for tomorrow's possibilities. Before long, we will be able to detect the earliest components of cancer and determine its potential spread. An app on a smartphone will help find the earliest signs of an infection and help select the most appropriate antibiotic to treat it. Current open-surgical treatments will give way to noninvasive approaches. We will replace injured or diseased organs with living, engineered tissues. Such engineered tissues will also help overcome limitations inherent to artificial organs and joints and may help alleviate the shortage of organs for transplantation. Medicines will be engineered to attack known molecular targets, improve the potency of antibiotics, and prevent bacterial resistance.
What will it take to turn these possibilities into realities? Creativity, collaboration among disciplines, and a sustained commitment to innovation are required to reach these ambitious goals. Guided by active and ongoing discussions with its stakeholder communities, NIBIB has charted a course for the near term—the next 5 years— to maximize the impact of publicly funded research that merges engineering, physical, and life-science research toward improving human health. These discussions have identified pressing challenges and exciting opportunities to shape the most promising and productive research agenda for the Institute.


Roderic I. Pettigrew, Ph.D., M.D.
Director, NIBIB
A Decade of Progress
Since NIBIB was established a decade ago, progress in turning technology-based discovery into improved health has occurred at a stunning rate. The measurement precision of some 3–D techniques has improved by an order of magnitude, many standard surgical therapies are now done with image-guided minimally invasive methods, and some therapies can be delivered to individualized molecular targets. Interdisciplinary research has also produced entirely new disciplines of inquiry, as well as a growing cadre of scientists fluent in multiple scientifically interrelated areas. This new breed of researchers is eager to apply the fruits of technological advances to improving the practice of medicine and delivery of health care. NIBIB is helping to support a global shift in how science is taught, through an interdisciplinary lens that is ever attentive to the practical value of new knowledge and the introduction of innovative technologies that are more effective and efficient than current ones.
Because of NIBIB's broad mission, and the urgent need to translate discovery into practical health care solutions, the Institute collaborates extensively with academia, industry, and government. Bioengineering, for example, has seen considerable growth, and the field is now prominent at U.S. colleges and universities. Today, there are more than 100 bioengineering departments nationwide with students who are among the topmost academic achievers. And, as one measure of the robust private sector investment in applications of the type of biomedical technology research derived from Federal support, revenue estimates for the global medical device industry range from $220 billion to $375 billion annually.1
Below is a brief, chronological summary of NIBIB-funded developments in which scientific research has been translated into practical solutions to health care problems:
2003:
Quantum dots pinpoint cancer- affected lymph nodes, targeting them for removal.
Adding growth factors to rat bone marrow and fat cells grown inside molds builds new bone.
2004:
Implantable laser microscopy images brains of animals in motion.
Engineered rabbit knee cartilage is regrown in 2 weeks.
2005:
Brain-computer interface "cap" translates human brain waves into physical movement commands.
Robotic devices help stroke victims move their hands.
2006:
Electrical stimulation makes cultured heart cells beat.
Sensor chip identifies urinary tract infections with 98 percent accuracy.
2007:
Robotic feedback allows surgeons to "feel" their actions during robot-assisted surgery.
Resorbable surgical mesh eases tissue healing.
2008:
Breast CT scanner offers an alternative to mammography, with no breast compression.
Microchip identifies and captures rare circulating tumor cells in blood.
2009:
Hydrogel creates a 3–D artificial ovary.
Microchip measures up to 30 different substances in a single biological sample.
2010:
Tongue-operated device allows a person with paralysis to control his or her wheelchair.
Micro-NMR that is 1,000 times more sensitive than a sputum smear detects tuberculosis infection quickly and cheaply.
2011:
Battery-powered fiber-optic microscope finds cancer early.
Disposable chip detects microbes in water, food, and body fluids.
2012:
Engineered human liver enables drug screening using human cells in mice.
Epidural electrical stimulation restores motor and sensory function in people living with paralysis.
For more examples of progress during NIBIB's first 10 years, visit A Decade of Innovation for Health.
1 Medical Device & Diagnostic Industry magazine: http://www.biotechmedia.com/y2001-ed-canon-mddi.html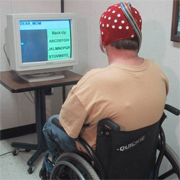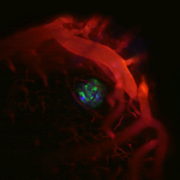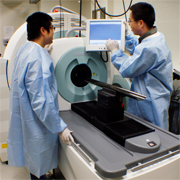 Goal 1
Develop innovative biomedical technologies that integrate engineering with the physical and life sciences to solve complex problems and improve health.
NIBIB's investments result in new knowledge, and they support the development and improvement of technologies leading to diagnoses and treatments that are more effective, more accessible, faster, and more cost-efficient than those currently available. These are the advances that result from the convergence of biology and engineering.
The Institute believes that harnessing the creativity of bright minds with outstanding ideas and expertise is the best strategy to lead innovation that will make a difference in the lives of Americans and those beyond our borders. NIBIB will continue to invest strategically in high-impact research that meets a demonstrated public health need. This includes support of investigator-initiated research in imaging, engineering, health informatics, and interdisciplinary science at research institutions around the country and in the NIBIB's own research program on the NIH campus in Bethesda, Maryland.
Strategies
Serve as the key supporter of investigator-initiated grants in imaging, engineering, health informatics, and interdisciplinary science.
Nurture a robust, cutting-edge intramural research program with emphasis on areas at the interface of biology and engineering that are not supported extramurally.
Guide the application of NIBIB-developed technologies toward the diagnosis and treatment of specific diseases through collaboration with other NIH components, government agencies, and industry.
Progress Report: Prosthetics That Don't Provoke Stroke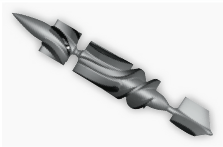 Mechanical pumps, ventricular assist devices, and prosthetic valves that improve blood flow in people with heart failure come with a price: They can trigger the formation of life-threatening blood clots. Treating heart problems with anticoagulants, or blood thinners, can cause yet another problem: bleeding. The best solution for both of these problems is to eliminate the need for blood thinners altogether.
A newly engineered pump designed by Danny Bluestein, Ph.D., of Stony Brook University in New York, which spins at thousands of revolutions per minute, aims to do that. The small device, modeled using advanced computations of blood flow dynamics, is shaped to gently redirect how platelets flow, which minimizes their ability to stick to each other and cause clots. The computations determine flow fields as well as the likelihood that the flow will "activate" platelets and cause clot formation.
Bluestein, who has a background in aerospace engineering, teamed up with colleagues at the University of Arizona as well as with industry scientists to test the pumps in animal models. These experiments showed that the devices substantially reduced clotting and the need for blood thinners. The researchers plan to test the pumps in humans next.
Progress Report: Promise for People Living With Paralysis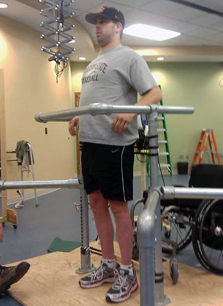 New research suggests that people with paralysis from spinal cord injury have inactive nerve connections that can be reawakened through low-level electrical stimulation in the area surrounding the spine. V. Reggie Edgerton, Ph.D., of the University of California, Los Angeles, and his colleagues at Caltech and the University of Louisville used electrical stimulation of the epidural region of the lower back to kick-start the growth and/or function of those nerves.
This still-experimental approach, which is paired with intensive physical therapy, works by retraining the body's nerve circuitry. To date, it has been successful in three people living with paralysis, enabling them to regain partial use of their limbs. Unlike computer-driven robotic methods, Edgerton's method works directly on the spinal cord, allowing voluntary movement by the person who is disabled.
Edgerton also hopes to apply the method to improve gait in people who have Parkinson's disease or who have suffered a stroke.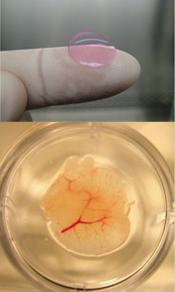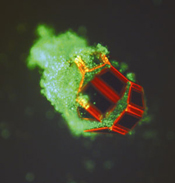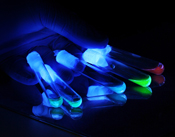 For everything we've published, we've tried many things that didn't work, and that's what we should be doing. A lot of times, we learn the most when things don't work.
— NIBIB intramural scientist Hari Shroff, Ph.D.
Goal 2
Enable patient-centered health care through development of point-of-care, wireless, and personal health informatics technologies.
A patient-centered approach creates an environment where people are empowered with knowledge that helps guide their health and well-being toward better outcomes. Improved sensor and information technologies for home and mobile use can enhance health information access and exchange for both patients and providers. Point-of-care technologies that make a definitive diagnosis at the point and time of initial contact between a patient and his or her health care professional have become a recent reality. This development facilitates diagnosis and subsequent treatment that are tailored to the patient, and also provide real-time, definitive information for the provider. As a result of other research/developments, individualized health care is being optimized through the integration of patient-related medical information from all sources, including medical centers, walk-in clinics, and home devices.
Another key strategy NIBIB will follow toward achieving patient-centered care is ensuring that medical information is available in a convenient format for both practitioners and patients, so that data can be translated into clinical care. Data interoperability is a 21st-century challenge for everyone, and NIBIB will play a vital role in advancing it by engaging industry, Federal agencies, and professional organizations to achieve this common goal.
Strategies
Develop improved sensor and related information technologies for home and mobile use that will sustain wellness and facilitate coordinated management of chronic diseases.
Advance wireless and mobile health technologies and integrate point-of­ care technologies with medical information systems.
Gather evidence-based information to inform individualized, clinical decision-making.
Progress Report: Battery-Powered Fiber-Optic Microscope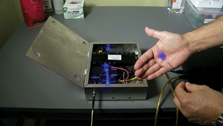 Detecting cancer early is critical for effective treatment and cure. Yet many people remain unaware of problems because early disease often does not produce noticeable symptoms. Moreover, while some imaging techniques such as CT and MRI scans can detect some cancers and other diseases at an early stage, most are limited to research settings due to expense and equipment size. Remote regions in the United States and in developing countries lack resources and infrastructure to perform this type of life- saving screening.
Rebecca Richards-Kortum, Ph.D., of Rice University, and her colleagues at the University of Texas M. D. Anderson Cancer Center and New York's Mount Sinai School of Medicine came up with a solution.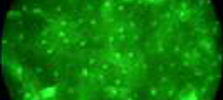 They developed an easy-to-use, reliable, and portable device that combines a light-emitting diode (LED) light, microscope lens, fiber-optical needle, and consumer-grade digital camera to noninvasively detect oral and cervical cancers during routine exams.
Richards-Kortum's device is small and battery-powered, so it can be used in rural, remote, and low-resource settings.
Watch the video: Instant Mobile Cervical Cancer Diagnosis.External link – Please review our disclaimer
Progress Report: Patient-Controlled Image Sharing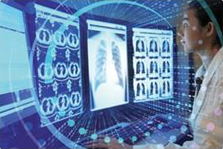 Having a health condition that requires frequent imaging—such as cancer, bone disorders, or lung disease—often means multiple trips to various doctors and radiology centers. What if people could manage the sharing of image-related data among their various health care providers from home, a clinic, or some other remote site?
Such patient-controlled image sharing has now been successfully validated in research, thanks to David S. Mendelson, M.D., of Mount Sinai Medical Center in New York. Mendelson teamed with four other academic health centers, along with Microsoft's HealthVault, lifeIMAGE, and InSiteOne (now owned by Dell), to provide patients with an Internet-based log-in account over which the patient has complete control. The setup allows people to share images among health care specialists from home.
Mendelson reports that people who participated in this image-sharing study did not require extensive computer savvy and were pleased with the ability to become more active participants in their health care.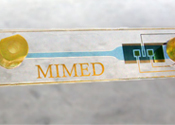 Right at the point of care, you can have an accurate diagnosis that enables immediate outpatient care.
— Bioengineer Rebecca Richards-Kortum, Ph.D.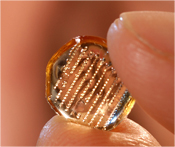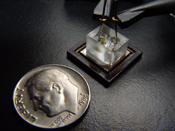 Goal 3
Transform advances in knowledge of cellular and molecular disease mechanisms into precise medical diagnostics and therapeutics.
Measurements of an individual's isolated cells and specific molecules can provide information useful for determining disease risk, for identifying disease at a very early stage, and for more precise characterization of a particular disease. NIBIB will support the development of technologies that enable detection of molecular markers of disease, including-disease specific proteins and the analyses of individual cells, as well as genomic-, proteomic-, and metabolomic-based analytical approaches. While advances in this area will apply to diverse disease areas, applications in cancer diagnosis, prevention, and treatment are likely to be particularly relevant in the near term.
Driving the relevance of single-cell approaches is the fact that, to date, most studies of cells and their behavior have been performed on averaged populations of cells. Recognizing that biological processes are dynamic, NIBIB will support research that advances knowledge of single-cell function and of interactions between cells. NIBIB will invest in studies that improve the ability to monitor single-cell behavior in living tissue through state-of-the-art imaging and computational tools that analyze the large data sets generated by such approaches.
Strategies
Develop novel methods and technologies to identify cellular and molecular markers of disease.
Engineer devices that use precise biomarkers to sub-classify disease.
Develop imaging and bioengineering technologies to isolate single cells and to analyze their variation.
Progress Report: Finding Circulating Cancer Cells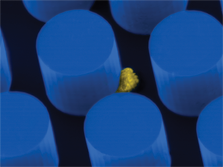 Mehmet Toner, Ph.D., and Daniel Haber, M.D., Ph.D., of Massachusetts General Hospital have developed a small device the size of a microscope slide that is exquisitely sensitive in detecting circulating tumor cells (CTCs). It has miniature chambers and micro-channels, serving essentially as a disposable blood-cell sorter. The device can detect and separate CTCs from whole blood samples at concentrations of less than 1 cancer cell among 1 billion normal cells. When captured and analyzed, the CTCs can help physicians customize therapy.
The microfluidic device, called the CTC-Chip, could be used to follow patients with known primary tumors to screen blood samples for early evidence of metastatic spread, as well as to suggest therapies specific to a particular cell type or types. The device is currently being tested for early diagnosis and patient monitoring of lung, prostate, breast, and pancreatic cancers.
Progress Report: Delivering the Right Dose to the Right Place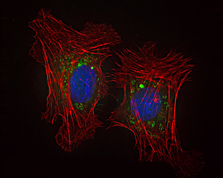 Many people with cancer receive a "cocktail" mixture of chemotherapy drugs to manage their disease, a mostly effective and long-standing approach known as combination chemotherapy. However, problems can arise from imprecise dosing and from side effects that occur when mixtures of cancer drugs affect healthy cells instead of their tumor targets. A different approach is to package two or more medicines together and then to release them at the tumor where they are needed in the correct amounts and ratio to each other.
To achieve this goal, an interdisciplinary team from Harvard Medical School and the Massachusetts Institute of Technology (MIT) created a nanoparticle made of a biocompatible, FDA-approved polymer known as PLGA-PEG (polyethylene glycol). The biodegradable nanoparticle absorbs medications like a sponge. After injection, the particle concentrates at the disease target using molecular homing to protein markers that appear on the surface of most solid tumor cells. At the delivery site, the nanoparticle then releases its drug payload at a controlled rate over a period of days.
The researchers are currently testing the method on various cancer cells.
Watch the video: Human Livers in Mice Aid Therapeutics.External link – Please review our disclaimer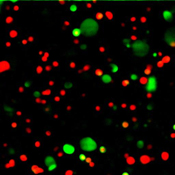 Think about it. Right now, there is blood testing, and from there, we jump immediately to high-end imaging modalities— there is nothing in between.
— Biomedical engineer Mehmet Toner, Ph.D., on the need for cell-based analytics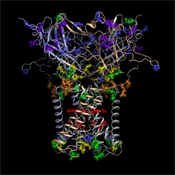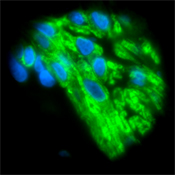 Goal 4
Develop medical technologies that are low-cost, effective, and accessible to everyone.
Just as advances in electronics technology and manufacturing have sharply reduced the cost of computers and televisions, innovative and affordable medical technologies have the potential to bring essential health care to more people, and at a lower cost. NIBIB is committed to supporting research that tailors the development of devices and instruments to a broad diversity of users—including those in remote and low-resource settings.
NIBIB will encourage scientists to think carefully about how new technologies will be used, since cultural acceptance is a key factor in compliance and thus an important design consideration. Establishing productive partnerships with users, along with the use of telemedicine and mobile health technologies, will maximize the return on NIBIB's research investment.
Strategies
Support the translation of medical technologies from the laboratory to routine clinical use.
Support research that customizes medical technologies for low-resource settings.
Support the development of culturally relevant medical technologies for a variety of users.
Capitalize on telecommunication and mobile health technologies to help broaden the accessibility and affordability of modern health care and extend it to remote environments.
Progress Report: On-the-Spot Imaging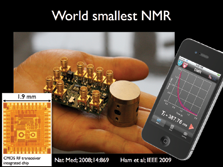 Diagnosing disease often relies on conventional pathology methods—extracting a sample of tissue from an organ or a tumor and using a microscope to analyze it visually. These methods take time and resources, and are usually invasive, requiring surgery.
Taking a different approach, Ralph Weissleder, M.D., Ph.D., and Hakho Lee, Ph.D., of Harvard University developed a miniaturized nuclear magnetic resonance (NMR) system. The micro-NMR imager can analyze cells, proteins, nucleic acids, viruses, and bacteria from unpurified biological samples—all in less than an hour. Using unprocessed samples, such as an aspirate from a fine needle, eliminates both the need for tissue extraction and a laboratory with trained technicians.
The approximately $200 portable device, which is the size of a cube-shaped box of facial tissue, can interface with a smartphone or tablet, providing doctors with objective numeric results on the spot. It is so precise that in initial clinical testing, the micro-NMR detected cancer cells more accurately than a standard biopsy, by immediately identifying multiple cancer-cell proteins.
Progress Report: Handheld Ultrasound Scanner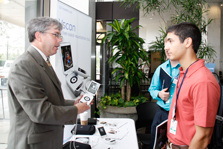 Ultrasound technology is a mainstay of modern medicine. The technique has a range of uses: enabling views of a developing baby in a mother's uterus, diagnosing cardiovascular disease, or ablating fibroid tumors.
With an NIBIB grant, Kai Thomenius, Ph.D., of General Electric Global Research in Niskayuna, New York, developed a low-cost sensor technology to produce a battery- powered, hand-sized, fully functional ultrasound scanner. Now called the V-scan, the device is a palm-sized, high-quality ultrasound scanner that has the functionality of conventional cart-mounted systems. The portable device costs 20 times less than the much larger units often seen in doctors' offices and hospitals. It is operated through a simple, thumb-controlled user interface.
Because of its low cost and ease of use, the V-scan is being used in 100 countries all over the world for a range of preventive screening, triage, emergency, and routine-care applications. In one of its earliest deployments, public health officials took advantage of the V-scan's versatility to triage patients after the 2011 Tohoku earthquake in Japan.
Watch the video: New Hand-held Ultrasound Scanner.External link – Please review our disclaimer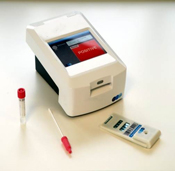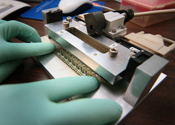 Goal 5
Train the next generation of diverse and interdisciplinary scientists, bioengineers, and health care providers and promote the value of research that synergizes these disciplines.
An overarching theme of the NIBIB research program is successful bridging of the quantitative and biological sciences to develop highly effective, targeted therapies for a range of diseases. Multi- and interdisciplinary research training is the cornerstone of achieving this goal, and NIBIB will continue to use creative strategies to develop and promote training programs and opportunities at all points in a scientist's career.
Because medical technology often finds its way into routine use in our daily lives, public education and awareness is a vital component of translating research into practice. NIBIB will continue to emphasize the importance of science and health literacy, and the necessity of bridging the physical and life sciences toward better health for the nation. The Institute values input from various stakeholder groups including patients, health care providers, researchers, industry leaders, and students. This input helps NIBIB plan and prioritize its research portfolio, thus better serving the American public and the scientific community.
Strategies
Support team-based engineering design training at multiple career levels, ranging from undergraduate education to postgraduate training.
Support the development of biomedical researchers whose training includes clinical and industry internship experiences, as well as exposure to product development and regulatory issues.
Promote diversity in the bioimaging and bioengineering workforce at multiple career levels by supporting recruitment and retention of people from underrepresented groups.
Promote public understanding of how bridging engineering and the physical and life sciences improves health.
Enhance the use of modern communication tools to interact with the public and scientific communities.
Progress Report: Undergraduates Make Their DEBUT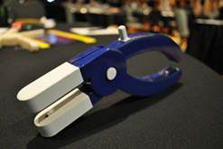 The NIBIB Design by Biomedical Undergraduate Teams (DEBUT) Challenge is helping to build the future workforce of biomedical engineers. DEBUT's goals are several: to encourage team science, to identify and address unmet clinical needs, to encourage innovative tool-making, and to celebrate the ingenuity and creativity of the next generation of biomedical scientists.
The novel contest, which was inaugurated in 2012 and will recur annually, was authorized under the America Competes Act. It is open to teams of undergraduate students working on projects that develop innovative solutions to unmet health and clinical problems. The winners in each of three categories earn a $10,000 prize and the chance to present their work at a leading national scientific meeting.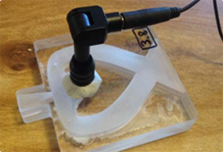 Judged on several criteria—significance of the problem addressed, impact on potential users and clinical care, design innovation, and a working prototype—the three winners of the first Prize competition answered the call with extraordinary creativity. The winning projects are described briefly below:
A team from the University of California, Los Angeles, devised Q-Path: A Flow- Through High-Throughput Quantitative Histology Platform. This microfluidic platform, combined with automated image analysis software, enables systematic screening of patient urine to diagnose cancer noninvasively.
A team from Johns Hopkins University developed QuickStitch, an inexpensive, disposable suturing tool for gastrointestinal surgery. It improves safety, efficiency, and consistency in stitching fascia, the collagenous layer underneath skin that wraps around internal organs.
A team from Washington University in St. Louis created the Low-Cost Spirometer. This $10 device measures lung function to diagnose and monitor respiratory diseases in the developing world. It offers a significant cost reduction compared with traditional spirometers costing $1,000–$2,000, without compromising accuracy or precision.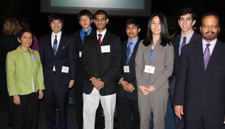 Progress Report: Creating Tomorrow Today
NIH's flagship training programs, the Ruth L. Kirschstein institutional training grants and individual fellowships (National Research Service Awards, or NRSAs), offer training both at the predoctoral and postdoctoral levels and are excellent training experiences.
NIBIB's NRSA training programs support team-based training between basic and clinical researchers from the undergraduate to postgraduate levels, producing a new cadre of interdisciplinary researchers at the interface between engineering and the biological, computational, and physical sciences. The programs are committed to increasing the participation of underserved minorities in the biomedical workforce.
The programs enable a trainee to obtain an interdisciplinary degree or add a specialization onto their primary degree. For example, engineers may take 1 year of medical school to enrich their awareness and knowledge of biomedical applications and of the human body itself. NIBIB currently funds approximately 50 institutional training programs across the country.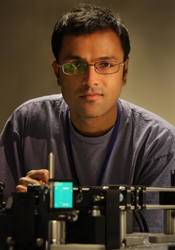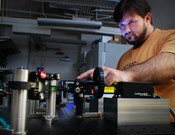 The researchers we train now and inspire to bring imagination to solving problems, will push the frontiers of technology to make today's dreams tomorrow's reality.
— NIBIB Director of Interdisciplinary Training Richard Baird, Ph.D.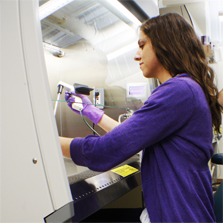 Looking Ahead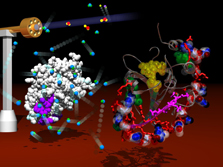 The 2012–2016 NIBIB Strategic Plan underscores the strong scientific and strategic foundation of NIBIB—one on which a very successful first decade was built. It also outlines the blueprint for maximizing the Institute's positive impact on the national health care agenda going forward.
Through its mission to fully integrate engineering with the physical and life sciences, NIBIB is committed to leading another decade of research excellence and innovation to improve the health of all Americans. Just as the spectacular advances of the past decade shine brightly, imagine what progress we will achieve 5, 10, and even 50 years from now. Scientific opportunities of the 21st century promise a new revolution in using technology to advance health care.
NIBIB, adhering to its core values of excellence, innovation, integrity, and partnership, is ready for the challenge.