Laboratory of Molecular Imaging and Nanomedicine (LOMIN)
The Laboratory of Molecular Imaging and Nanomedicine (LOMIN) specializes in synthesizing molecular imaging probes for positron emission tomography (PET), single-photon emission computed tomography (SPECT), magnetic resonance imaging (MRI), optical (bioluminescence, fluorescence and Raman), contrast enhanced ultrasound, photoacoustic imaging, as well as multimodality imaging. This research group aims to develop a molecular imaging toolbox for better understanding of biology, early diagnosis of disease, monitoring therapy response, and guiding drug discovery/development. LOMIN puts special emphasis on high-sensitivity nanosensors for biomarker detection and theranostic nanomedicine for imaging, gene and drug delivery, and monitoring of treatment.

Click here for LOMIN alumni contact information
Click here to view LOMIN job opportunities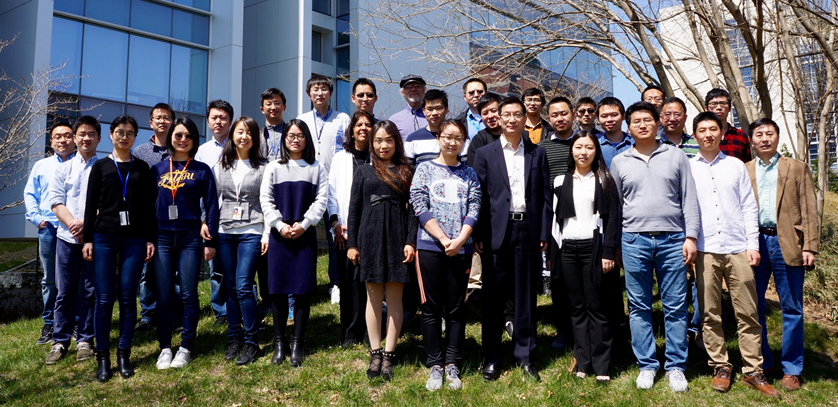 The Biological Molecular Imaging Section focuses on identification of disease-specific biomarkers; development of new molecular imaging probes with cellular and molecular biology oriented techniques and methods; application of the developed probes into multimodality imaging; and characterization of novel imaging or therapeutic agents, both in vitro and in vivo.
The Chemistry and Radiochemistry Section (CRS) is part of the Laboratory of Molecular Imaging and Nanomedicine (LOMIN), NIBIB. The CRS furthers LOMIN's multidisciplinary efforts to develop chemical entities and biological procedures to diagnose and treat human diseases.
Theranostic Nanomedicine is the medical application of nanobiotechnology and refers to highly specific medical intervention at the nanoscale for diagnosing, curing or preventing diseases.