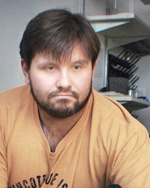 Investigator
The NIH intramural research program has shifted all non-mission-critical laboratory operations to a maintenance phase in order to promote physical distancing and diminished transmission risk of COVID-19. Effective Monday, March 23, 2020, 
only mission-critical functions
 within NIH research laboratories will be supported.
The NIBIB Section on Biophotonics develops probes and techniques for use in diffraction limited and sub-diffraction limited fluorescence imaging of cells and tissues. Major emphasis is placed on developing new and improving existing genetically encoded fluorescent proteins for use as markers and sensors. Methods and technologies include confocal, TIRF, and wide-field microscopes, single-molecule imaging, fluorescence spectroscopy, and protein engineering.