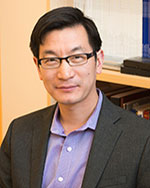 Senior Investigator
Theranostic Nanomedicine is the medical application of nanobiotechnology and refers to highly specific medical intervention at the nanoscale for diagnosing, curing or preventing diseases. Theranostic Nanomedicine involves the creation and application of nanobiomaterials and devices at the molecular level for personalized diagnosis, imaging and therapy.
Using a multidisciplinary approach, our lab builds new systems for various nanobiomedical applications ranging from the medical use of nanoplatform-based diagnostic agents, to therapeutic agents, and even possible future applications of theranostics (diagnosis + therapy). By integrating state-of-the-art molecular imaging and nanomedicine with peptide/protein chemistry, polymer/inorganic chemistry, nanobioconjugation chemistry, cell/molecular biology as well as clinical medicine, we are developing future nanoplatforms which enable i) early detection of diseases, ii) monitoring therapeutic response, and iii) targeted delivery of therapeutic agents. Its improved practical potency highlights its potential as new personalized strategies to help improve patient management and outcomes in the near future.
A full list of Dr. Chen's publications can be found on PubMed.