to
Savannah, Georgia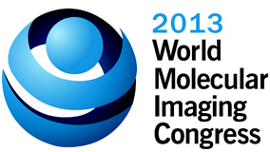 The World Molecular Imaging Society (WMIS) is dedicated to developing and promoting preclinical and clinical multi-modal molecular imaging to understand and effectively treat life-threatening neurological, cardiovascular, inflammatory, metabolic, oncological and infectious diseases. Each year, scientists, clinicians, young researchers, and students from various disciplines gather at the World Molecular Imaging Congress (WMIC) to interact, present and follow cutting-edge advances in molecular imaging. This year's meeting has five major areas of emphasis:
Chemistry & Imaging Probes
First-in-Human & Clinical Studies
Preclinical Cell & Tissue Level Studies
Preclinical in vivo Studies
Technology & Software Developments
For more information, visit the World Molecular Imaging Congress website.