President Obama has named NIBIB grantee Jordan J. Green, Ph.D., as one of the recipients of the prestigious Presidential Early Career Awards for Scientists and Engineers (PECASE). The PECASE award is the highest honor bestowed by the United States Government on science and engineering professionals in the early stages of their independent research careers. The award highlights the key role that the Administration places in encouraging and accelerating American technological innovation to grow the economy and tackle the nation's greatest challenges.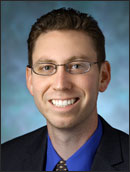 Dr. Green, one of the 105 recipients of the award for 2016, is an Associate Professor of Biomedical Engineering, Ophthalmology, Oncology, Neurosurgery, and Materials Science & Engineering at the Johns Hopkins University School of Medicine.
Dr. Green's team is interested in biomaterials, drug delivery, gene therapy, nanobiotechnology and cell engineering. Working at the interface of biology and engineering, his research endeavors to create innovative technologies and therapeutics to treat a number of diseases that significantly affect human health and quality of life.
Current projects aimed at specific diseases include the development of biodegradable nanoparticles that carry DNA and RNA for cancer treatment and microparticle-based biological treatments for age-related macular degeneration. Some of his other endeavors include bioengineering cells of the immune system to fight disease, and the development of tissue engineering technologies that help the body to repair diseased and damaged tissues.
Dr. Green's research using non-viral gene therapy to treat gliomas in a rat model of brain cancer was highlighted this summer in an NIBIB Science Highlight, "Gene therapy advance thwarts brain cancer in rats."
His work has resulted in more than 60 publications and he has received numerous awards including the 2015 American Institute of Chemical Engineers Young investigator Award for Nanoscale Engineering, and the Maryland Outstanding Young Engineer Award. He serves in numerous professional capacities including as an executive committee member of the Institute for NanoBioTechnology and a co-founder of the Translational Tissue Engineering Center at JHU. He is also the co-founder and CEO of the Baltimore biotech startup, AsclepiX Therapeutics.
The awards were established by President Clinton in 1996. Awardees are selected for their innovative research at the frontiers of science and technology and their commitment to community service as demonstrated through scientific leadership, public education, or community outreach.