Close to half a million Americans spend four hours a day, three days per week hooked to a machine that filters out waste products and excess fluids from their blood. This procedure, called hemodialysis, is the most common treatment for end-stage kidney disease when a kidney transplant is not an option. Due to increasing rates of the disease's main triggers – diabetes and high blood pressure – more people are undergoing hemodialysis each year. But some eventually face problems with this life-saving procedure because of blood-clotting complications.
A research team led by John Lambris, the Dr. Ralph and Sallie Weaver Professor of Research Medicine at the University of Pennsylvania, discovered a potential way to alleviate this problem. The solution stems from understanding the connection between two systems in the human body – the clotting system and part of the immune system known as the complement.
Immune System Unleashes Blood Clotting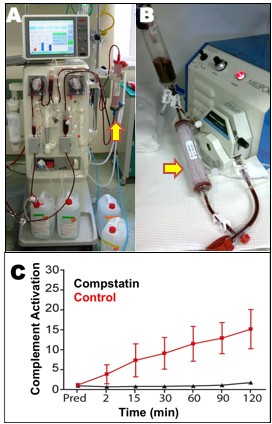 The complement is a network of proteins that serves as the first line of defense against pathogens and is also responsible for eliminating damaged cells. Abnormal activation of the complement may result in the complement attacking its host organism, a process that occurs in autoimmune diseases such as SLE (systemic lupus erythematosus), multiple sclerosis, and rheumatoid arthritis. The complement plays a role in numerous other ailments, including stroke, asthma, age-related macular degeneration, Alzheimer's disease, and cancer.
In the past 10–20 years, many studies have explored "how artificial materials and membranes can cause inflammation, and one main component of this process seems to be complement activation," indicates Ioannis Kourtzelis, a Ph.D. student in the Lambris lab. During hemodialysis, contact between blood and the hemodialysis filters and tubing triggers complement activation because the immune system sees these biomaterials as foreign. "None of the biomaterials is completely biocompatible," says Lambris.
Previous studies suggested that inflammation contributes to blood-clotting complications, but the exact molecular mechanisms for this link remained unclear. Four years ago, Lambris uncovered evidence that the complement system interacts with the blood-clotting system in blood from patients with an autoimmune disease: activation of the complement led to production of tissue factor, a major trigger of blood clotting. This finding led him to suppose that cross-talk between the complement and clotting systems is also responsible for the increased tendency for clotting to occur during hemodialysis. To confirm that hypothesis, the research team circulated human blood through a hemodialysis system ex vivo and measured activation of the complement system. Contact of blood with the hemodialysis filters activated the complement, which in turn led to release of inflammatory molecules called anaphylatoxins and production of tissue factor by blood cells called neutrophils. Another signaling molecule, granulocyte colony stimulating factor, was produced at high levels in response to complement activation. "The main function of this factor is to mobilize neutrophils from the bone marrow," says Kourtzelis, and this is thought to further aggravate the increased clotting.
Taming the Complement to Improve Health
Neutrophil activation and tissue factor release were completely prevented when blood was treated with compstatin, a complement inhibitor developed by Lambris. Compstatin was originally discovered in 1996 by searching a molecular library for peptides that bind complement component C3. The drug showed therapeutic potential in animal studies and was subsequently chemically modified to improve its inhibitory potential. A compstatin-derived analog currently is being tested in clinical trials for age-related macular degeneration, a leading cause of vision loss in Americans aged 60 and older. The lab is already exploring a number of similar drugs with improved properties.
The ex vivo study was a necessary first step to directly measure the effect of biomaterials on complement activation and clotting. In the near future, the research team is planning to conduct in vivo experiments. "It would be of great interest to try to do this procedure first in animals and later in humans and see how you avoid the inflammation and activation of clotting (in response to the biomaterials used in hemodialysis) by administering compstatin," states Kourtzelis.
Future Applications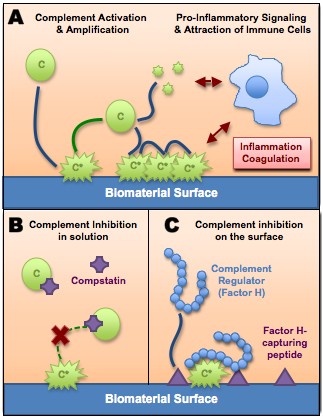 Rather than administering the drug into the bloodstream, "an alternative way to prevent this inflammatory response is to modify the biomaterial surface. We discovered molecules which, when bound to the biomaterial surface, absorb complement regulatory proteins," says Lambris.
Pathogens use similar strategies to protect themselves from the immune defense system by attracting regulatory proteins (i.e., Factor H) that shut down the complement system. The researchers wanted to use the same idea to modify biomaterial surfaces. "These molecules are small peptides; in some cases they can be used as they are. But if you want to modify hemodialysis filters, you need to design small organic molecules and bring the cost down." (Small molecule drugs are cheaper to produce and have a longer shelf-life than peptides.) "We are using these peptides as templates to design these small molecules," Lambris adds. Besides hemodialysis filters, the Lambris team is exploring ways to modify other artificial surfaces, such as those used in stents and implants, in order to eliminate complement activation.
Drug delivery is another important area where complement inhibitors could be applied. Nanoparticles and microscopic globules called liposomes are increasingly used to deliver medicines to tumors and other specific locations in the body. Inhibiting the immune reaction to those vehicles would make treatments more effective. "The annual market for complement inhibitors is in the billions. We think that the compounds that we have developed are more effective and much less expensive than other compounds that have been tried," says Lambris.
This work is supported in part by the National Institute of Biomedical Imaging and Bioengineering, the National Institute of General Medical Sciences, and the National Institute of Allergy and Infectious Diseases.
---
Kourtzelis I, Markiewski MM, Doumas M, Rafail S, Kambas K, Mitroulis I, Panagoutsos S, Passadakis P, Vargemezis V, Magotti P, Qu H, Mollnes TE, Ritis K, Lambris JD. Complement anaphylatoxin C5a contributes to hemodialysis-associated thrombosis. Blood. 2010 Jul 29;116(4):631–9. Epub 2010 Apr 27.
Ricklin D, Hajishengallis G, Yang K, Lambris JD. Complement: a key system for immune surveillance and homeostasis. Nat Immunol. 2010 Sep;11(9):785–97. Epub 2010 Aug 19. Review.
Ricklin D, Lambris JD. Complement-targeted therapeutics. Nat Biotechnol. 2007 Nov;25(11):1265–75.
Health Terms:
Autoimmune Disease,
Biomaterials,
Drug Delivery,
Kidney Disease