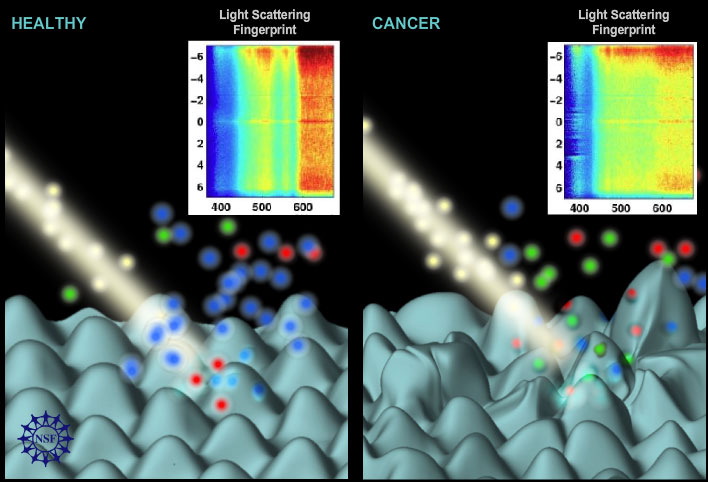 Pancreatic cancer, which claimed the life of famed tenor Luciano Pavarotti just a year after diagnosis, is the fourth leading cause of cancer deaths in the U.S. for both men and women. Survival rates are grim, with 24% of patients surviving a year after diagnosis and less than 5% surviving after 5 years. The poor prognosis results from an inability to detect precancerous lesions or early-stage disease.
"Currently there is no way to diagnose this disease. There are no options. Period," says Vadim Backman, a professor of biomedical engineering at Northwestern University. "The pancreas is a nasty organ to work with and gets inflamed very easily," he explains. Probing or imaging the organ carries a very high risk of complications, and current imaging techniques such as magnetic resonance imaging and ultrasound cannot reliably detect precancerous or early-stage lesions. Located deep within the abdomen, the organ is also difficult to palpate externally.
To overcome these challenges Backman and Northwestern colleagues Hemant Roy and Randy Brand and graduate student Yang Kim combined a novel theory and optical imaging techniques to track cellular changes in the small intestine that result from cancerous lesions in the pancreas. The results may provide an early detection tool for pancreatic cancer as well as other diseases.
Assessing the Landscape
In a recent study, the researchers examined the small intestines of 51 patients, 19 with pancreatic cancer and 32 normal subjects, using four-dimensional elastic light scattering spectroscopy (4D-ELF) and low-coherence enhanced backscattering spectroscopy (LEBS). They transmitted white light through an endoscope inserted into the area where the pancreas empties into the small intestine. The light penetrated through the 100-µm-thick lining just enough to scatter light on the tiny subcellular structures in the lining. The light signals were analyzed and the researchers obtained "fingerprints" of the tissue. These patterns revealed differences in the subcellular landscape when normal and cancerous samples were compared.
When cancer is present, cells in the small intestine become increasingly disordered. "What we're sensing is the degree of disorder," explains Backman. "It's like looking at a house after an earthquake. It may look fine from a distance, but if you look closely at the bricks you see cracks," he says. Knowing the characteristic changes associated with pancreatic cancer could lead to a set of markers used to identify the disease.
Because the small intestine is easily biopsied, the Northwestern technique could provide an almost risk-free tool to track individuals at higher risk for pancreatic cancer such as those with a family history of the disease, smokers, and diabetics. "This technique may be one part of a potential solution. There will never be just one test," says Brand, now director of the Gastrointestinal Malignancy, Early Detection, Diagnosis, and Prevention program at the University of Pittsburgh Medical Center. "Cancer is too smart and develops through many different molecular pathways. So instead of turning off a light switch you have to shoot at each individual light bulb."
Field Effect to Measure Risk
While Backman and Brand acknowledge the impact their optical technique may have on new screening methods, they are quick to point out that what they find even more important is the discovery of the field effect as a way to detect disease in its earliest stages. In previous studies, Backman and Roy, an Associate Professor of Medicine at Northwestern and a physician at Evanston Northwestern Healthcare, showed that changes in the rectum signal the presence of early-stage cancer in the colon. They surmised that genetic and environmental conditions related to a cancerous lesion in one location can also be found in nearby areas.
"The field effect in the small bowel is a whole new concept to use with the pancreas," says Brand. "This may be another way to measure risk. It is critical that we expand our study to include patients with a variety of pancreatic and other gastrointestinal conditions to determine what other diseases mimic these effects."
What's Next
The researchers continue to recruit patients and currently have over 200 analyzed. Backman anticipates multicenter trials will begin in the near future. He predicts several major centers at Pittsburgh, Stanford, and Indiana, as well as Northwestern will participate. Before introducing the technique to clinical practice, the technology must be approved by the U.S. Food and Drug Administration and commercialized. "As an experimental technique in a few centers, it should be available in a very reasonable amount of time," says Backman.
This research is supported in part by the National Institute of Biomedical Imaging and Bioengineering and the National Cancer Institute.
---
American Cancer Society. Cancer Facts and Figures 2006. Atlanta: American Cancer Society; 2006. p 17.
Liu Y, Brand RE, Kim YL, Turzhitsky V, Roy HK, Hasabou N, Shah D, Backman V. Optical markers in duodenal mucosa predict the presence of pancreatic cancer. Clin Cancer Res. 2007;13(15):4392-9.