Press Releases
October 13, 2011
Dr. Roderic Pettigrew Honored by Biomedical Engineering Society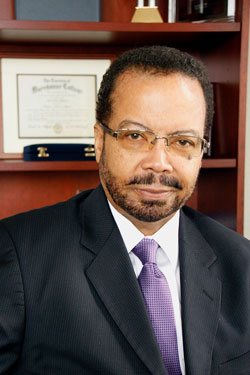 Roderic Pettigrew, Ph.D., M.D., Director of the National Institute of Biomedical Imaging and Bioengineering (NIBIB) at the National Institutes of Health has been selected to receive the 2011 Distinguished Achievement Award from the Biomedical Engineering Society (BMES). It is the most prestigious award conferred by the society to a non-academic institution for contributions of preeminent importance to the field of biomedical engineering. Previous recipients of the BMES Distinguished Achievement Award have come from organizations such as the Bill and Melinda Gates Foundation, Boston Scientific Corporation, and the Whitaker Foundation. The award will be presented at the BMES annual scientific conference in Hartford, Conn., on Oct. 14, 2011.
Richard Waugh, BMES president noted "BMES selected Dr. Pettigrew as the recipient of this prestigious award due to his significant contributions to the field of biomedical engineering. Under Dr. Pettigrew's leadership over the last decade, NIBIB has become a catalyst for medical technology development and innovation by conducting and funding seminal research in biomedical imaging and bioengineering. We are pleased to honor and acknowledge Dr. Pettigrew's pivotal role in biomedical engineering research, development, and education."
A lecture entitled The Critical Roles of Convergence Science and Technological Innovation in Tomorrow's Healthcare will be given by Dr. Pettigrew in the Hartford Convention Center immediately following receipt of the award.
Dr. Pettigrew is known for his pioneering research at Emory University, Atlanta, involving four-dimensional imaging of the cardiovascular system using magnetic resonance (MRI). He has been elected to membership in the Institute of Medicine and the National Academy of Engineering of the National Academies, and to fellowship in the American Heart Association, American College of Cardiology, American Institute for Medical and Biological Engineering, International Society for Magnetic Resonance in Medicine, and he is an Honorary Fellow of the Biomedical Engineering Society.
The BMES 2011 conference will be co-hosted by Brown University, Providence, R.I., and the University of Connecticut, Storrs, and will feature more than 1,500 poster presentations and hundreds of oral presentations during three days of symposia and sessions on biomedical engineering.
###
About the National Institute of Biomedical Imaging and Bioengineering (NIBIB): The NIBIB's mission is to support multidisciplinary research and research training at the crossroads of engineering and the biological and physical sciences. NIBIB supports emerging technology research and development within its internal laboratories and through grants, collaborations, and training. More information is available at the NIBIB website.
About the National Institutes of Health (NIH): The NIH, the nation's medical research agency, includes 27 Institutes and Centers and is a component of the U.S. Department of Health and Human Services. NIH is the primary federal agency conducting and supporting basic, clinical, and translational medical research, and is investigating the causes, treatments, and cures for both common and rare diseases. More information is available at the NIH website.
NIH...Turning Discovery Into Health