NIBIB Director Roderic I. Pettigrew, Ph.D., M.D. recently received the first-ever Gold Medal Award from the Academy of Radiology Research (ARR) for his extraordinary contributions in advancing radiology research. ARR is an alliance of 28 professional imaging societies, which works nationwide to enhance patient care through advances in biomedical imaging.
ARR created the new award to highlight the profound impact that innovative biomedical imaging has had on modern healthcare and to encourage continued visionary leadership and advances in the field. The award was presented at the opening of the Academy's Distinguished Investigator Ceremony at the 2014 Radiological Society of North America (RSNA) meeting in Chicago.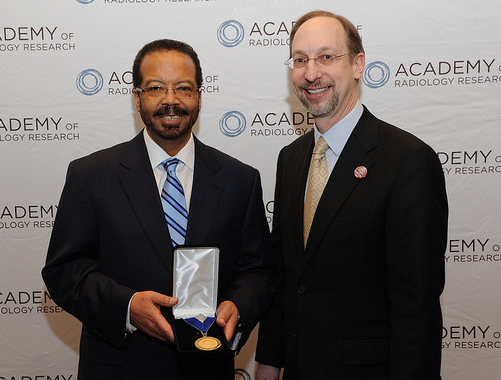 ARR President Dr. Jonathan Lewin, who presented the award, said, "We are inspired by and are the beneficiaries of Dr. Pettigrew's remarkable talents and efforts in advancing imaging research and the dramatic difference it has made on the practice of medicine. The NIBIB has led the way in supporting a new breed of innovative researchers who converge multiple disciplines to help achieve more effective, more accessible, and less costly healthcare."
Dr. Lewin commended Dr. Pettigrew for his vision and creativity in developing a long list of innovative NIBIB programs and in leading imaging-based and interdisciplinary science to help meet the nation's most pressing healthcare needs.
Dr. Pettigrew has served as the director of NIBIB since its establishment in 2002. Under his leadership, the institute has become a global leader in biomedical imaging research and in the development of cutting-edge imaging technologies that profoundly affect the way diseases are diagnosed and treated.
Currently, NIBIB funds approximately 900 grants to researchers around the globe annually. After its first year in existence, grant applications increased by 450 percent and more than half of these were submitted by investigators new to the NIH—a strong testament to the unique interdisciplinary nature of NIBIB's mission. In more recent years, there has been a dramatic increase in the number of applications that have scored within the top 10th percentile, up 80 percent in the last four years alone. This increase also indicates the substantial merit and significance of the work that NIBIB's constituent research community proposes.
Some of the advances in biomedical imaging during Dr. Pettigrew's tenure as NIBIB director include: (1) a 20-fold improvement in MRI spatial and temporal resolution—enabling more sensitive, more precise, and faster studies and new applications, (2) the world's first hand-held battery powered Doppler ultrasound imaging system, (3) research to reduce routine CT radiation dose 10-fold, leading to doses that are comparable to levels seen with natural environmental exposure in a year, (4) a hand-held NMR system for bedside detection of an array of cancer biomarkers or a range of bacteria ,(5) research to develop a truly portable MRI scanner, and (6) many striking neuroscience advances, including detection of an Alzheimer's protective gene variant and early characterization of the fine structure of human neuronal tracks. NIBIB has also excelled in efficiently producing patents from its funded research. Patents are known to directly correlate with increased economic activity and technological competitiveness.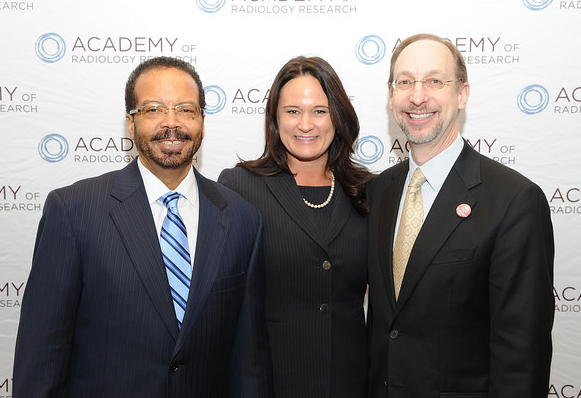 Currently, NIBIB is developing a number of progressive initiatives to meet some of the world's most challenging healthcare needs. These include: collaborative national and joint efforts with India and Mexico to develop low-cost and point-of-care medical technologies suitable for low-resource settings; a collaboration with India to transform the detection, monitoring, and management of hypertension through new cuff-less technologies that can be passively integrated into one's daily routine; and a national consortium to reverse paralysis due to spinal cord injury.
In receiving the award, Dr. Pettigrew said, "This is a moving honor. I accept this first Academy gold medal on behalf of the many individuals who comprise NIBIB and the early ground-breaking leaders who dreamed of creating the institute, saw it as a necessity, and worked tirelessly to make it a reality. I'm incredibly gratified by the critical role NIBIB has played in improving the nation's health."