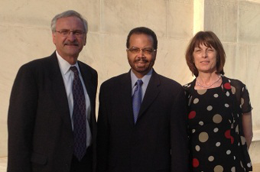 NIBIB grantees Dr. Gordana Vunjak-Novakovic and Dr. Norbert Pelc have been inducted into the National Academy of Engineering (NAE). Founded in 1964, the NAE marshals the expertise and insights of eminent engineers to advise the nation on matters involving engineering and technology. Members are peer-elected and induction to the academy is among the highest professional distinctions conferred on engineers.
Dr. Vunjak-Novakovic, a Mikati Foundation Professor of Biomedical Engineering and Medical Sciences at Columbia University, was elected to the academy for her development of bioreactor systems—devices or systems used to grow cells or tissue for biochemical and tissue engineering—and for her creation of models for tissue engineering and regenerative medicine.
Vunjak-Novakovic is currently engaged in three research projects funded by NIBIB. In addition to her continued focus on the development of highly innovative bioreactors, she is also exploring the use of silk hydrogel as a substrate for engineering cartilage tissue, and has proposed to engineer microtissues that resemble the structure and function of the human capillary network, small portions of the liver, and heart muscle to examine the effects of drugs as well as disease processes on specific biological systems.
Dr. Pelc is a Boston Scientific Applied Biomedical Engineering Professor as well as Professor and Chair of Bioengineering at Stanford University. Renowned for his work in the field of biomedical imaging, Dr. Pelc was inducted into the academy for his development of algorithms and technologies for MRI, CT, and hybrid X-ray/MRI.
Pelc currently holds an NIBIB grant to develop a multidisciplinary pre-doctoral program at Stanford University that will train the next generation of biomedical imaging scientists. Previous NIBIB-funded research was conducted by Dr. Pelc in an effort to develop a new type of imaging called Inverse Geometry CT; his goal is to reduce the amount of radiation patients are exposed to while retaining or even increasing the quality of CT images.