NIBIB-supported researcher Joseph Cheng, Ph.D., has won the 2015 W.S. Moore Young Investigator Award given by the International Society of Magnetic Resonance in Medicine (ISMRM). The award recognizes original clinical research in magnetic resonance imaging conducted by individuals in the early stages of their career. 
Cheng won the award for his work developing motion correction techniques that allow children to breathe freely during MRI scans of the abdomen. The award was presented to Cheng at the recent ISMRM annual conference in Toronto.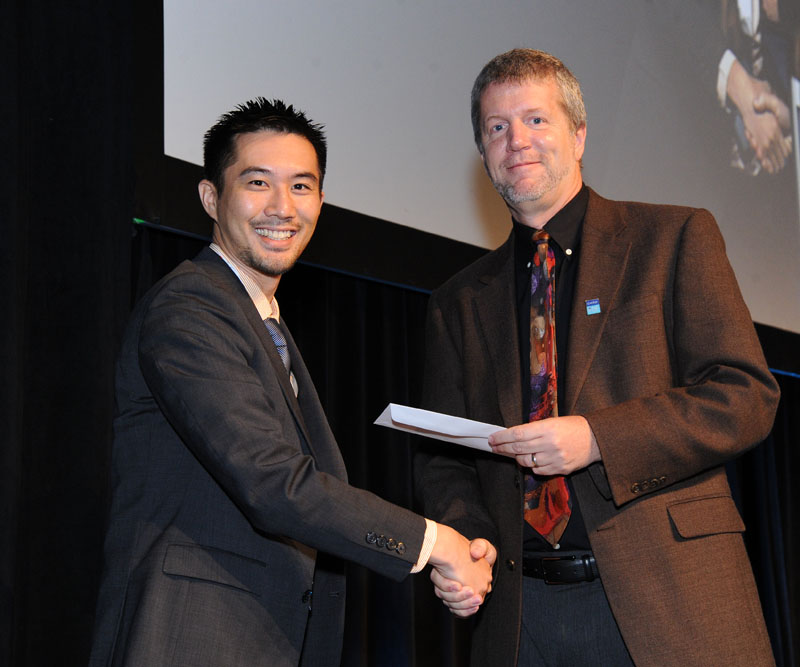 "We congratulate Dr. Cheng for his outstanding work on developing new tools for pediatric MRI," said Richard Conroy, Ph.D., Division Director of Applied Sciences and Technology at NIBIB. "The majority of research being conducted on MRI focuses on imaging adults. Cheng's work could mean a vast improvement in comfort for children who need MRI's and could unlock the potential of MRI to significantly improve our understanding of childhood diseases."
Cheng is currently a post-doctoral scholar in the lab of NIBIB grantee Shreyas Vasanawala, M.D., Ph.D., Associate Professor of Radiology at the Stanford University Medical Center. Vasanawala is funded by NIBIB to develop new technology and methods for accelerating MRI scan times so that MRIs are more accessible for children.
Cheng was considered for the award based on a manuscript he submitted last fall titled: "Free-Breathing Pediatric MRI with Nonrigid Motion Correction and Acceleration." In the manuscript, Cheng explains that MRI scans are an ideal imaging modality for children, because they are non-invasive and don't require exposure to ionizing radiation (as do X-ray and CT scans); however, some children have difficulty holding their breath long enough to acquire an MRI scan of the abdomen. The current solution is to give these patients anesthesia and control their breathing in order to acquire the image, but this is an invasive procedure and one that some sick children can't endure. 
In an effort to make abdominal scans accessible to all children, Cheng combined new methods for acquiring MRI data and for reconstructing images so that children do not need to be sedated as often and can continue to breathe normally throughout the duration of a scan without sacrificing the quality of the MRI images that are generated. 
"Now, at our clinic, we rarely have them hold their breath anymore. We let them breathe freely and we're able to get high-quality images that can be used for diagnosing," Cheng said. 
Cheng was chosen as the winner for the award based on his manuscript, his research and academic track record, and the quality of an oral presentation that he gave discussing his research during the conference. He says he's been working on this particular project for about four years now. 
"The award is a great recognition for all the work my team and I put into this project. To be able to do a big project like this takes many years and collaborations with many talented people. As a young investigator, this is a nice affirmation that I'm on the right track," he said.
Vasanawala attributes Cheng's success to his strong commitment to helping children through advancing technology. "Joseph is a creative scientist with a passion for improving the care of patients," said Vasanawala. 
"His determination to make MRI more motion-tolerant for children came from embedding himself in the clinic, understanding the clinical need, and then working exceptionally hard to make his solutions a reality. As a result, his work on motion correction has benefitted hundreds of patients at Stanford. Children who need MRI here now require lighter, shorter sedation, or no sedation at all to undergo MRI exams." 
Looking forward, Cheng would like to determine whether his motion correction techniques can be used to help generate high quality MRI images of the beating heart.