Science enthusiasts snacked on "instant" ice cream made with liquid nitrogen, tried their hands at virtual surgery, sat in the driver's seat of a new Tesla Model S electric car and learned about a prototype for the world's first reusable rocket, all during National Geographic's recent "Science of Everything" fair in Washington, D.C.
The fair was held at National Geographic's headquarters in the hour prior to a Live series talk given by David Pogue, former technology columnist for the New York Times and host of the PBS series NOVA ScienceNOW, and now the technology columnist at Yahoo. Pogue wrote the forward for National Geographic's recently published Science of Everything book, which provides explanations of everyday things from "cell phones, soap bubbles and vaccines to GPS, x-rays and submarines."
More than 300 people arrived early to view demonstrations given by science innovators such as SpaceX, Tesla, National Geographic's Remote Imaging Lab, Nicecream Factory, Baying Hound Aleworks and the National Institute of Biomedical Imaging and Bioengineering.
NIBIB was delighted to be one of six exhibitors asked to participate in the fair. The institute showcased three technologies from the fields of materials science, medical robotics and computer simulation—demonstrating the breadth of NIBIB-supported research.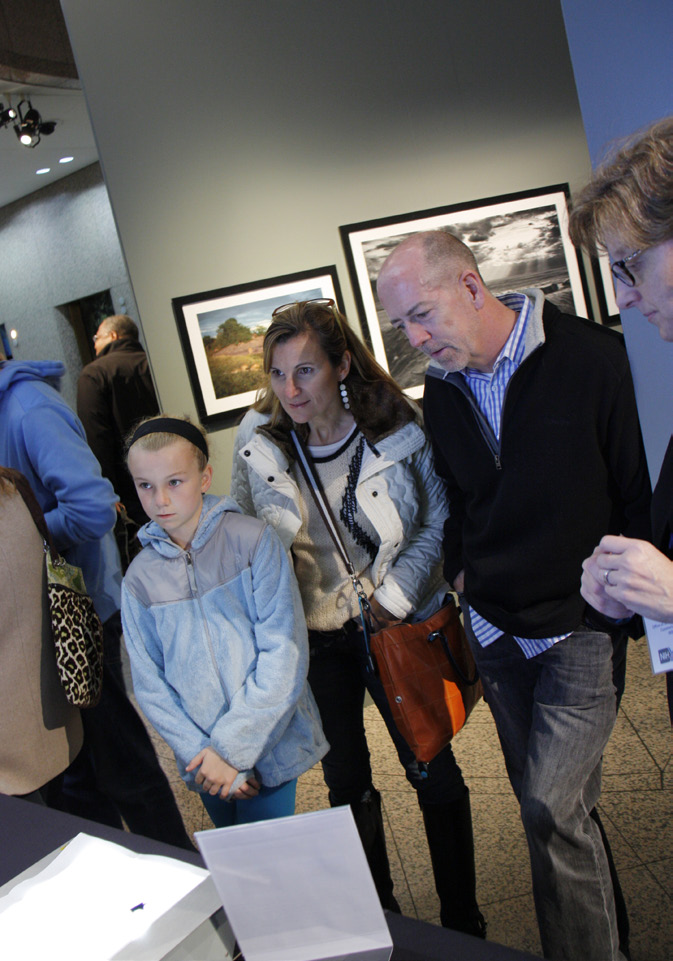 At the NIBIB booth, onlookers marveled as a synthetic polymer film developed by researchers at MIT danced atop a light box as if cast under a spell. When exposed to just a tiny amount of moisture, this novel film readily absorbs water molecules, causing the exposed surface to expand and the entire film to buckle. Then, just as the film begins to fold in on itself, its damp surface is exposed to air and the water evaporates, causing the film to quickly revert to its flattened state.
While these acrobatics may seem like a simple feat, the tiny film can lift up to 380 times its weight and can generate electricity when combined with a material that converts mechanical energy into an electric charge. Potential applications of the film include simulating the function of a muscle to control robotic limbs or generating power for nanoelectronic or micro-electromechanical systems such as carbon monoxide detectors.
Attendees were equally enthusiastic to learn about a neurosurgical robot being developed by NIBIB-supported researchers at the University of Maryland. The worm-shaped robot can be used inside the strong magnet of an MRI and could help surgeons remove previously inaccessible brain tumors. A key facet of the robot is the system of shape memory alloy (SMA) pulleys and springs that control its motion. In addition to displaying the newest prototype, an engineer from UMD demonstrated how SMA wires can quickly return to a pre-deformed shape, such as a spring, when exposed to heat.
On the far end of the booth, adults and children lined up for a chance to suture wounds using an NIBIB-supported virtual surgery technology, developed by the company SimQuest. While viewing a highly realistic image of a patient's wounded arm, users maneuvered joysticks to control surgical instruments in an effort to close the wound. The joysticks provided force-feedback so that the users felt the weight of the instruments as they moved and experienced resistance when touching and stretching the patient's skin.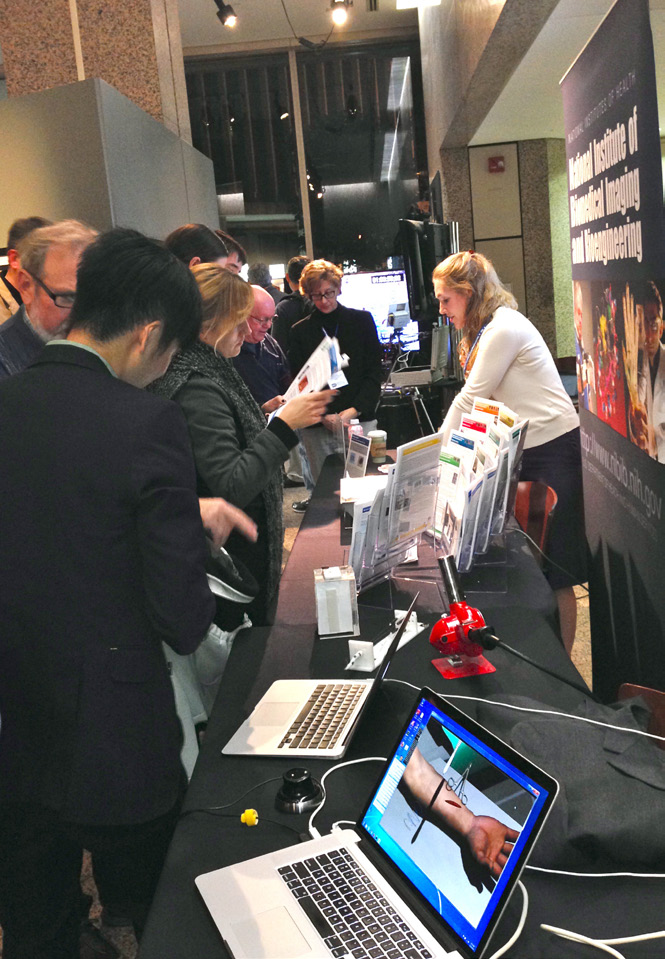 In addition to the demonstrations, NIBIB provided a colorful array of NIBIB Science Fact Sheets, each of which explain the science behind a different medical imaging or bioengineering topic such as MRI, PET and CT scans, ultrasound, tissue engineering, robotics and computational modeling. During the fair, a large flat-screen TV looped an NIBIB video titled Six Awesome Technologies Your Tax Dollars Are Paying to Create. The video highlights NIBIB-supported technologies that have the potential to significantly impact the field of medicine and, ultimately, patients' lives.
"NIBIB funds many exciting technologies that have the potential to make profound differences in how we diagnose, treat and even prevent diseases," said NIBIB director Dr. Roderic Pettigrew. "Events like these are a great way to show the public the benefits that have emerged from some of NIBIB's investments."
He also praised the collaboration between NIBIB and National Geographic. "Like the National Geographic Explorers, NIBIB-supported scientists and engineers constantly push the boundaries of what we think is possible. Our involvement with this event is a great way to get the general public excited about scientific research and inspire younger generations to want to contribute to improving the world through scientific innovation."
At least one teenage girl at the event was taking note. While intently watching the MIT polymer nearly flip off its stage, she proudly exclaimed that she wanted to become an engineer and hoped that an internship at NIH might one day be in her future.
                                                                                                                                                            -Margot Kern