In a clinical study that used both a mechanized exoskeleton and electronic stimulation of nerves, researchers from the University of California, Los Angeles (UCLA), assisted a paralyzed 39-year-old man in taking steps and feeling tension in leg muscles put to work for the first time since a disabling accident four years prior. Results were published online in the proceedings of the 37th Annual International Conference of the IEEE Engineering in Medicine and Biology Society, which concluded in Milan, Italy on Aug. 29, 2015. The research is funded in part by the National Institute of Biomedical Imaging and Bioengineering (NIBIB).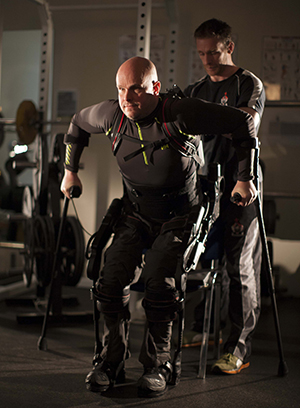 The study comes on the heels of the team's July report in the Journal of Neurotrauma in which five participants with complete spinal cord injury (SCI) received an experimental noninvasive electrical stimulation technique and regained voluntarily movement of their legs. In the current study, researchers used the same transcutaneous spinal cord stimulation—high frequency electrical pulses directed from a device strategically placed on the skin surface of the lower back—in addition to five days of training in the exoskeleton, to actively engage muscles in one individual with SCI, enabling him to take steps from a standing position.
"This is a great example of a therapeutic approach that combines two very different modalities—neuromodulation and robotic assist devices—to achieve a result that could not be realized with either approach alone," said Grace Peng, Ph.D., director of NIBIB's Rehabilitation Engineering Program. "This multi-device approach, much like multi-drug therapy, may ultimately benefit patients with impaired mobility in a wide variety of rehabilitation settings."
The study participant, Mark Pollock, is affected by two physical disabilities. He lost his vision in 1998, at the age of 22. In 2010, four years before enrolling in the study, he injured his spinal cord in a fall, resulting in complete loss of feeling or motor function below his waist.
On each of five days of study observation, researchers applied electrodes to Pollack's skin through which he received spinal stimulation, while in the exoskeleton. The exoskeleton mobility-assist device allows the wearer to contribute effort that is compensated by robotic controls to complete the step cycle. Pollock, who had previously logged thousands of steps in the exoskeleton, performed stepping exercises that included his physical effort for one hour each day.
The researchers reported that the stimulation of electrical pulses activated spinal neural networks and resulted in Pollock's ability to activate his leg muscles in a coordinated stepping motion during the sessions. Pollock reported feeling tension and tingling in his lower limbs during the exercises. Researchers observed perspiration on the skin of his lower back and legs that Pollock hadn't experienced since his injury. They also recorded his elevated heart rate and blood pressure during workouts, with his pulse rising from 75 to 110 beats per minute during the one-hour training sessions. The results reflected a combination of voluntary control of leg muscles, cardiovascular activity, and body temperature regulation.
"It will be difficult to get people with chronic, complete paralysis to walk completely independently, but even if they don't accomplish that, the fact they can assist themselves in walking will greatly improve their overall health and quality of life," said V. Reggie Edgerton, senior author and UCLA distinguished Professor of Integrative Biology and Physiology, Neurobiology and Neurosurgery. "For people who are severely injured but not with complete paralysis, there's every reason to believe they could improve even more with these types of interventions."
The mechanized suit is a commercially manufactured device developed over the past 10 years and sold by the Richmond, California-based company, Ekso Bionics.
The research was supported by NIBIB, the National Institute of Neurological Disorders and Stroke, and the Eunice Kennedy Shriver National Institute of Child Health and Human Development, all at NIH; and by the Christopher & Dana Reeve Foundation and the F.M. Kirby Foundation. It was conducted in the UCLA Clinical and Translational Research Center, which is supported by the National Center for Advancing Translational Science, also part of NIH.
ARTICLE: Gad, et al. Iron 'ElectriRx' man: Overground stepping in an exoskeleton combined with noninvasive spinal cord stimulation after paralysis. Proceedings of 37th Annual International Conference of the IEEE Engineering in Medicine and Biology Society. Aug. 31, 2015. For the abstract, visit the IEEE Engineering in Medicine and Biology Society.