Science Highlights
December 4, 2017
Eleven years ago, Andrew Meas sustained a spinal cord injury as the result of a collision with an oncoming vehicle while riding his motorcycle. The injury left him paralyzed from the chest down. Three years afterwards, he enrolled in a study at the University of Louisville in which researchers would investigate whether spinal stimulation, in conjunction with daily training on a treadmill, could restore some ability to move.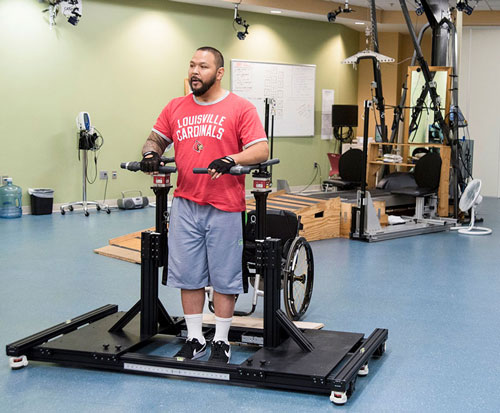 The team reported in 2014 that four participants in the pilot study, each paralyzed for more than two years, were able to voluntarily flex their toes, ankles, and knees while a surgically implanted epidural stimulator was active. Their ability to move improved over time when combined with physical rehabilitation. Now, the team reports new findings in a follow-on study in which only Meas participated. That study involved more physical training while using the stimulator implant and testing of his mobility with the simulator turned off. The team reported on Oct. 26, 2017, in Scientific Reports, that Meas was able to voluntarily move his legs, reach a standing position with minimal assistance, and stand without assistance during 10-second intervals on each leg and both legs at once.
"The University of Louisville team's research on individuals with spinal cord injury is pioneering work, building on years of exploration of a newly-discovered phenomenon," said Michael Wolfson, Ph.D., director of the program in Rehabilitation Engineering and Implantable Medical Devices at the National Institute of Biomedical Imaging and Bioengineering. "The key next step to developing a therapy based on this phenomenon is a rigorous understanding of the mechanisms underlying the investigators' approach."
The research team is headed by Susan Harkema, Ph.D., professor and associate director of the Kentucky Spinal Cord Injury Research Center at the University of Louisville, in Louisville, Kentucky. The team includes members from the Kentucky Spinal Cord Injury Research Center, and from the Frazier Rehab Institute, both in Louisville. 
After his injury, and before participating in the study with spinal cord epidural stimulation, Meas was unable to voluntarily move his legs. Throughout the course of the 3.7-year study, he was asked to flex his muscles in patterns required for movement under supervision by physical therapists, and the electrical activity of his muscles was recorded for analysis. These electrical measurements suggest that circuits in his spine adapted enough for him to voluntarily engage his leg muscles, even with the stimulation was not enabled.
This report represents a longitudinal case study demonstrating sustained restoration of the neural circuitry that connects the participant's brain with motor control of his legs, said Wolfson. The authors write of their surprise at the variety of new motor abilities the participant could perform when the researchers explored optimal settings for the electrical stimulator. 
"I was really thankful to be a part of this research," Meas said at a news briefing at the University of Louisville announcing results of the study. "It's truly like a dream come true for somebody that's been through what I've been through. It's just a moment of hope…not just for myself but hope for the whole spinal cord injury world."
The research team received support for their study from NIBIB (EB007615), the National Institute of General Medical Sciences (GM103507), the Reeve Foundation, and the Leona M. and Harry B. Helmsley Charitable Trust.
Motor recovery after activity-based training with spinal cord epidural stimulation in a chronicmotor complete paraplegic. Rejc E, Angeli CA, Atkinson D, Harkema SJ. Sci Rep. 2017 Oct 26.