Science Highlights
June 15, 2018
Study in Lima underway to test the approach
Researchers funded by the National Institute of Biomedical Imaging and Bioengineering (NIBIB) have launched a six-month pilot study in Lima, Peru, using smartphones and computer-aided tools to rapidly screen people for tuberculosis (TB). The smartphone-based system will shorten the wait time for diagnosis from weeks to hours. Rapid diagnosis, in turn, will reduce the transmission of TB to others and hasten the start of medications.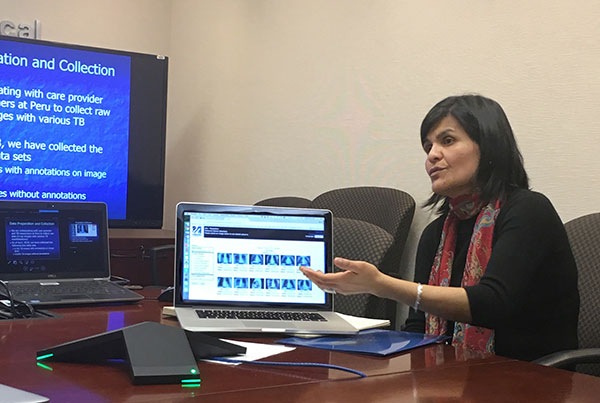 The researchers are from the University of Massachusetts (UMASS) Lowell's Department of Public Health and Department of Computer Science. In 2015, they received a four-year, $1.3 million grant from NIBIB and the National Science Foundation, through the interagency Smart and Connected Health (SCH) program. They presented their project at NIBIB in April.
TB is a curable bacterial infection, but it kills 1.7 million people per year globally, according to the World Health Organization. The Centers for Disease Control and Prevention reported that in 2016, 9,272 TB cases were reported in the United States.  Peru is one of the countries with the highest number of TB cases in the Americas.
Maria Brunette, Ph.D., associate professor of global public health at UMASS Lowell and project director/principal investigator, demonstrated the tools her team has developed. Fellow principal investigators Benyuan Liu, professor of computer science, and Yu Cao, associate professor of computer science, participated remotely in the demonstration from UMASS Lowell.
"We find that health care professionals are really engaged and excited about the use of mHealth—using mobile devices or apps—to facilitate and speed up processes," Brunette said. "It's not as simple as developing the app, but also how we can integrate the technology into the health care system and nurses' work processes and procedures."
The mHealth system that the team has begun to implement in Peru includes a smartphone and a tablet that are connected to cloud-computing servers. They developed computer systems modeled to process data in the way that a human brain would, also called neural networks, which they trained to automatically analyze chest X-ray images for the telltale signs of active TB. 
The networks access a dataset of thousands of X-rays, accumulated through collaborations with Peruvian TB care providers and researchers. According to Cao, the 15,000-plus X-ray images may be the world's largest TB dataset that includes a variety of manifestations of the disease—from haziness of imaging to signs of the presence of fluid or enlarged lymph nodes.
The team is conducting the pilot project in health care clinics in two districts in Lima, Peru, affected by urban poverty. Nurses and nurse technicians at remote TB clinics will use smartphones to take digital photographs of X-rays to be shared through a secure, web-based platform. A pulmonary specialist will view the images remotely and make diagnoses.
"This is a project that can have valuable outcomes for the people of Lima, who contend with such a high disease burden from tuberculosis," said Tiffani Lash, Ph.D., director of the NIBIB programs in Connected Health (mHealth and Telehealth) and Point-of-Care Technologies. "Lessons from the use of mobile technologies for improved health care processes may also prove to be beneficial for low-resource communities in the U.S. as well."
The project is anchored in the community-based participatory research platform, a partnership approach to research. It includes researcher partners at Boston University, the Peruvian Ministry of Health's TB National Program, Partners in Health Peru, and the University Cayetano Heredia. 
The research is funded in part by NIBIB (EB021900).
A version of this article was also published in the June 15, 2018 NIH Record.