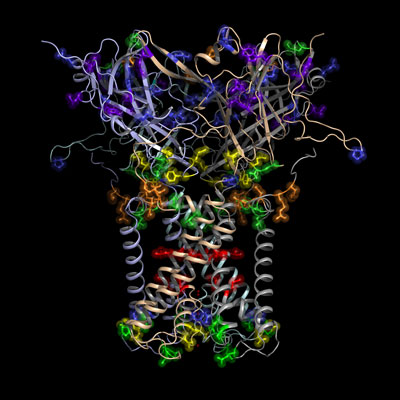 About half of all proteins reside in the cell membrane, conveying messages from one side of the membrane to the other. Membrane proteins called potassium channels control a variety of processes such as nerve cell communication, hormone secretion, and heart rhythm. Potassium channels are essentially pores in the cell membrane through which potassium ions flow, establishing an electrical potential across the membrane. Potassium ion flow is necessary for conducting nerve impulses and contracting heart muscle. Abnormal potassium channel function has been linked to diseases of the heart, kidney, pancreas, and central nervous system.
It is thought that a "gate" controls the potassium channel's opening and closing in response to different stimuli. Changes in the shape of the channel's inner mouth presumably shift the gate to an open position; because scientists don't understand what the channel looks like in the open position compared with its closed counterpart, they have not been able to fully understand how this process works.
Zapping a Snapshot of a Protein
A breakthrough methodology pioneered by Mark Chance, director of the Case Western Reserve University Center for Proteomics and Bioinformatics, promises to provide answers about the dynamic interplay between membrane protein structure and function. The approach, dubbed protein footprinting, combines radiolytic labeling with structural mass spectrometry.
In radiolytic labeling, protein samples are irradiated with high-flux X-ray beams for a very short period of time – one thousandth of a second. The radiation breaks down water molecules into hydroxyl radicals, which quickly bind to areas of the protein that are exposed to water (e.g., those close to the channel surface). During opening and closing, the protein changes shape, exposing different areas of the protein to water. Thus, different areas of the protein are likely to be labeled with hydroxyl radicals when the potassium channel is in the open state than when it is closed. To identify the amino acids (the building blocks of proteins) that change position during opening and closing, researchers labeled the channels in the open and closed states and then analyzed the two samples using mass spectrometry.
A Channel's Gating System
Observing the differences between open and closed states allowed Chance and collaborators from Oxford University to pinpoint which amino acids are crucial in mediating the flow of ions through the channel and the gating process. "Our information about the open state of the channel can help us design experiments in an electrophysiological context [measurement of voltage change or electric current in ion channels and cells], design certain drugs, or make certain mutations to probe the structure and function," says Chance. Their findings complement previous structural data on the closed state of the channel and earlier theoretical predictions of potassium channel gating. Elucidating the gating process is critical to understanding how signaling molecules regulate gating and how inherited mutations and drugs affect potassium channel function. This knowledge could lead to advancements in cardiovascular medicine.
With current methodologies, it is very difficult to study the structure of human potassium channels in a cell membrane. Thus, Chance performed his experiments in a detergent that mimics the natural membrane environment. "We would like to get to a point where we can do more elegant experiments with the footprinting technology, either in the membrane or in the cell," he says. Researchers cannot be sure that the structure observed in detergent is the same as would be found in a cell.
Revealing Structural Waters and Drug Action
For a class of proteins called G protein-coupled receptors (GPCRs), it may soon be possible to "footprint" protein structure directly in native cells and tissues. Working with Krzysztof Palczewski, chair of the pharmacology department at Case Western Reserve University, Chance recently discovered water molecules in the core of the membrane-spanning region of rhodopsin, a GPCR involved in vision. In addition to stabilizing the protein's structure, these water molecules appear to help rhodopsin change shape when exposed to light.
"It's like you are greasing the protein so that now it can change conformation [shape] depending on environment," says Palczewski. He believes that the presence of these "structural" water molecules is common among membrane proteins. Together, Chance and Palczewski already have uncovered hidden water molecules in several other GPCRs as well as inside a potassium channel. "Water is a very important part of the membrane protein, which we can't just ignore," says Palczewski.
Protein footprinting offers a unique opportunity to see how channels and receptors function in real time, and the technique is currently the only direct way to study how water molecules function inside proteins. Although nearly half of all drugs target GPCRs, how these drugs affect protein shape changes, in either ion channels or GPCRs, is largely unknown. "We specifically developed these technologies because of a current barrier in understanding. [The research] is really going very rapidly; it's very exciting right now," says Chance. The new insights derived from this technology will help researchers design more effective drugs for diseases that involve membrane proteins.
This work is supported in part by the National Institute of Biomedical Imaging and Bioengineering and the U.S. Department of Energy.
---
Gupta S, Bavro VN, D'Mello R, Tucker SJ, Vénien-Bryan C, Chance MR. Conformational changes during the gating of a potassium channel revealed by structural mass spectrometry. Structure. 2010 Jul 14;18(7):839-46.
Angel TE, Gupta S, Jastrzebska B, Palczewski K, Chance MR. Structural waters define a functional channel mediating activation of the GPCR, rhodopsin. Proc Natl Acad Sci U S A. 2009 Aug 25;106(34):14367-72.