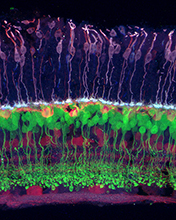 NIH announced the third round of funding for the NIH BRAIN Initiative on Oct. 13, 2016, with more than 100 new awards and a total in new funding exceeding $70 million. Almost $8 million in support is for 20 NIBIB projects at 17 institutions around the country. 
President Barack Obama highlighted t
he NIH BRAIN Initiative during his remarks at the Oct. 13 White House Frontiers Conference, in Pittsburgh. 
NIBIB Director Roderic I. Pettigrew made the following comment about the BRAIN Initiative's impact on brain research:
"We have a critical need for innovative and transformative technologies that will provide a dynamic picture of the brain at many levels. From categorizing individual neurons to observing brain activity during thinking, learning, and execution of tasks, this research will reveal extraordinary insights into the intricate workings of the human brain."