Each year since 1985, civil servants around the country have celebrated Public Service Recognition Week, running May 7-13 this year. Throughout the country, mayors, governors, agency leaders, communities and public service organizations participate by issuing proclamations, organizing special tribute events, and delivering messages about the value of public service. I would like to add my voice to the chorus of those celebrating public service—not just the most visible aspects, but also the efforts by members of our organizations that get the least attention though they mean a lot.
At the National Institute of Biomedical Imaging and Bioengineering, it is easy to become absorbed by the many demands of the scientific enterprise and the individual responsibilities we each are required to perform so the organization can deliver its cutting-edge research programs. Then, you hear about a staff member who goes well above and beyond her assigned duties to share with students the opportunities and adventures that a future as a biomedical engineer holds.
The photograph below depicts the shower of appreciation— in individually written and decorated thank you letters—for Dr. Grace Peng, director of the NIBIB program in Computational Modeling, Simulation and Analysis, following her visit on March 27, 2017, to a classroom at Fulton Elementary School. Students wrote glowingly of her visit and what they learned about robotics, rehabilitation medicine, and the role of animals in biomedical research. The kids apparently learned a lot!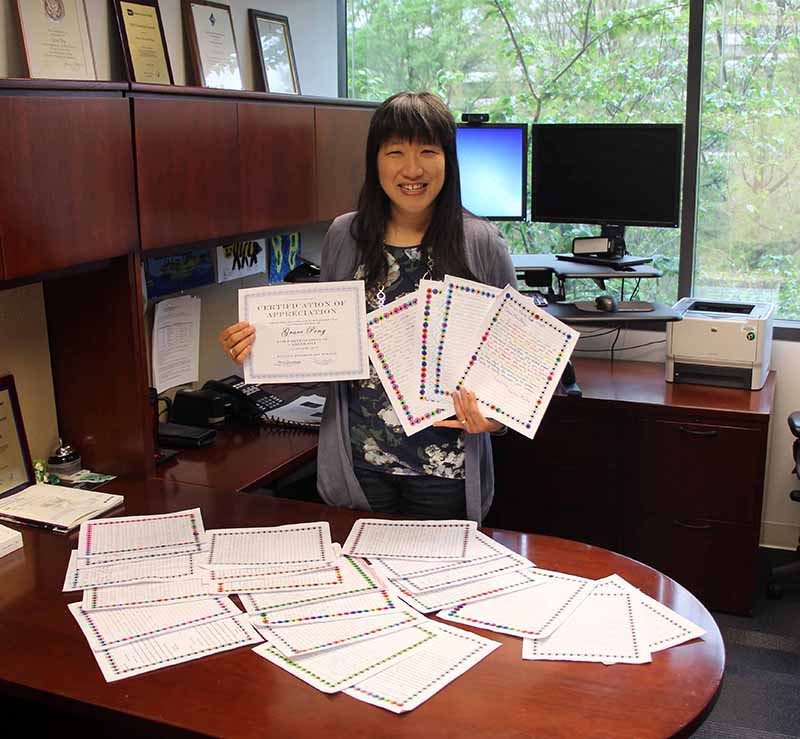 Dr. Peng also volunteers for part of her summer vacations introducing the wonders of science—especially robotics—to Native American children in the Pejuhutazizi community in Granite Falls, MN. This summer will be her fifth year.
We can all take a cue from Dr. Peng's devotation to her volunteer community service, alongside her public service. There are many in our ranks who give back to the community in a variety of ways. Our communities—and country—are the richer for this kind of commitment. Hear, hear, lets applaud Public Service Week!