Statement from the NIBIB Director
November 24, 2017

I will soon be leaving NIBIB, after 15 years as its Director.  It has been an exhilarating and inspiring journey.  I am indeed indebted to the hardworking and creative grantees and their teams whose exemplary ideas and efforts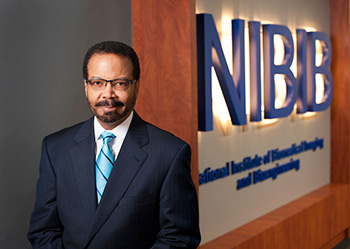 have enabled NIBIB to become one of the signature institutes at NIH. This is exemplified by NIBIB being the leader in patents produced per research dollar. In fact, the innovative and highly impactful research we have conducted has allowed me to refer to NIBIB as 'the Institute of cool stuff' and has stimulated many of our nation's leaders to recognize and value our unique role.  As I transition to a new position based in Houston, I hope to continue the work of championing convergence research and education that will help transform the medical ecosystem and achieve a healthier citizenry.November 24, 2017
In Houston, I will be the Chief Executive Officer of a new Texas A&M and Houston Methodist Hospital program called "EnHealth". This first-of-its-kind initiative will integrate engineering into all the Texas A&M colleges within the university's system that are part of the healthcare enterprise. This will include the colleges of Medicine, Pharmacy, Dentistry, Veterinary Medicine, Nursing, and Public Health. In addition, I will be Executive Dean of a new engineering-based medical school campus located in the Texas Medical Center and within the broader EnHealth initiative, called "EnMed" for Engineering Medicine. EnMed is a partnership between Texas A&M University, Houston Methodist Hospital and the Houston Methodist Research Institute.
Supporting and reporting on the NIBIB's groundbreaking research advances over the years has underscored that this is an opportune time for a medical education curriculum at the nexus of engineering, medicine and biology – so that physicians will become adept at using engineering informed approaches to benefit their patients, and engineers who better understand the unmet clinical needs will be inspired to design effective solutions.  NIBIB's pioneering work at the interface of the physical sciences, the life sciences and engineering has strengthened my life-long mission of convergence research to catalyze innovations that advance medicine, increase value, and democratize health care delivery.
It has been my sincerest pleasure and a tremendous privilege to serve as this Institute's founding director. I am deeply appreciative for all those with whom I have worked over the years to advance the mission of NIBIB.  I look forward to learning of the continued successes of this Institute through its many talented scientists and staff that comprise our communities.   I leave the Institute in the extremely capable hands of Jill Heemskerk, Ph.D., who will serve as Acting Director.  I know that she looks forward to serving and working with you to achieve even greater success.
Sincerely,
Roderic I. Pettigrew, Ph.D., M.D.
Selected Publications
Recent Events and News Mentions