Delivery Systems and Devices for Drugs and Biologics
Delivery Systems and Devices for Drugs and Biologics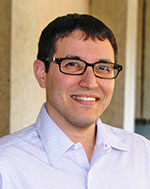 Director
The area of delivery systems and devices for drugs and biologics includes the delivery of nucleic acids, peptides, proteins, vaccines, genes, small molecules, and theranostics. Emphasis is on the engineering of new delivery vehicles that may include (but are not limited to) novel biomaterials, liposomes, micelles, nanoparticles, and dendrimers; or various delivery modalities that may include, for example, ultrasound, electroporation, implantable pumps, or stimulators. The scope of work may include, for example, development of the delivery vehicle or device itself, and proof of concept testing through preliminary in vitro and in vivo studies.
Macrophage engulfing foreign cells. Credit: Richard Tsai
A microneedle patch for influenza vaccine delivery. Roderic I. Pettigrew, Ph.D., M.D., director of the National Institute of Biomedical Imaging and Bioengineering (NIBIB), discusses the first human influenza vaccine trial using the microneedle patch developed by researchers at Georgia Tech and funded by NIBIB, part of NIH.