NIBIB's science education page is meant to be a resource for students, parents, teachers, and anyone interested in biomedical imaging and bioengineering. Here, you'll find answers to commonly asked questions about medical imaging and bioengineering technologies and learn about NIBIB-funded research. You'll also find links to websites, organizations, and events that promote science education and encourage scientific discovery.
INTERACTIVE EXPLORATION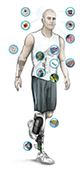 Visually explore some of the latest bioengineering creations from NIBIB-funded research. From prosthetics to artificial kidneys, these technologies are changing lives now and in the futures.
Featured Audio
Fun fact
Design by Biomedical Undergraduate Teams (DEBUT)
NIBIB is challenging teams of undergraduate students to compete in a biomedical engineering student design competition. The winning team in each of three categories receives a $10,000 prize! See last year's winners and learn more here.