Albert Jin, Ph.D.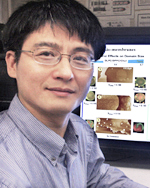 BG 13 RM 3N18D 13 SOUTH DR BETHESDA MD 20814
Biography
Dr. Jin has over 20 years of experience in interdisciplinary biomedical research at NIH and is currently the Chief of the Nanoinstrumentation and Force Spectroscopy Section, Laboratory of Cellular Imaging and Macromolecular Biophysics, NIBIB. His current projects include independent initiatives and collaborations with scientists and clinicians across the NIH campus and around the world. He earned a physics degree from Nanjing University in China and came to USA through the CUSPEA scholarship. He holds a Master's degree in experimental physics from Penn State University and his doctoral degree in theoretical/mathematical physics from the University of Maryland College Park in 1992. Dr. Jin is a member of the Biophysical Society, the American Society for Cell Biology, and the American Chemical Society.
Research Interests
Dr. Albert Jin's current research focuses in the areas of biomedical imaging, macromolecular biophysics, biotechnology, and nanomedicine. Most recently, his research has involved studies of biological and lipid membranes, malaria vaccine proteins, subcellular trafficking and cellular dynamics, biomechanics, multifunctional theranostics, and biomaterials. Dr. Jin's primary research tools are atomic force microscopy (AFM), high-resolution optical and fluorescent spectroscopic imaging, and quartz-crystal microbalance with dissipation (QCM-D) measurements. He has also built several precision biomedical research instruments used at NIH. Additionally, to optimize data interpretation and outcomes, he seeks to improve strategies for complex data analysis and biomedical modeling methods.