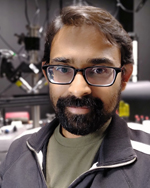 Acting Director
The Advanced Imaging & Microscopy Resource is a trans-NIH shared resource that houses, operates, disseminates, and improves non-commercial, prototype optical imaging systems developed at the NIH. The facilities at AIM are available for use by the entire NIH intramural research community.
While we welcome users with any size imaging project, AIM specializes in large, year long (or longer), collaborative research efforts with NIH labs – providing sample preparation, microscope operation and development, and data processing/analysis as needed. We take care of the imaging and processing so that you can focus on the biology.
Microscope
Description
Spatial Resolution
Speed
(frames/s)
Photodose
Sample

Instant structured illumination microscope (ISIM)

Fast super-resolution

140nm lateral
350nm axial

100

High

Live or fixed. Small, thin samples like cells, organoids.

Dual-view Inverted Selective Plane Illumination Microscope (DISPIM)

Fast, gentle, high resolution lightsheet for live samples

330nm isotropic

100

Low

Live or fixed. Cells, up to medium size, transparent samples like organoids, C. elegans, zebrafish.

Cleared Tissue DISPIM

Fast multi-view lightsheet for large cleared tissue samples

500nm isotropic

100

Low

Fixed and cleared. Up to 5mm thick slabs of tissue, up to 2cm x 3cm lateral size.

Single Molecule TIRF/Inclined Illumination Microscope

Variable inclination illumination single molecule imaging. Including STORM. 

20 nm lateral
50-60 nm axial

100

High

Live or fixed. Small, thin samples like cells.

Interferometric Photoactivated Localization Microscope (IPALM)

Localization microscope with unprecedented lateral and axial resolution.

20 nm lateral
10nm axial

Not suitable for live cells

High

Fixed and specially mounted. Small and thin samples like cells, bacteria.
This table describes the spatial resolution, speed, and sample suitability of the five microscopes currently being operated by the Advanced Imaging and Microscopy (AIM) Resource.
Additional Lab Resource Information: