Editor's Note: This page has been updated with the announcement of the Rapid Acceleration of Diagnostics (RADx) program.
Social engineering and bioengineering together can thwart the COVID-19 pandemic
Biomedical engineers -- this is a moment to bring out our best. While principles from social engineering have shaped the initial pandemic response, bioengineered technologies must ultimately be deployed to restore health to those with the virus, reduce its spread, and return us safely to full function as a society.
In the fourth congressional supplement, NIBIB received $500 million to support the development of new SARS-CoV-2 virus testing technologies. We are now announcing RADx, a new NIH initiative to do just that. Rapid Acceleration of Diagnostics (RADx) will leverage NIBIB's existing Point-of-Care Technologies Research Network (POCTRN) to accelerate the development, validation, and commercialization of innovative POC and home-based tests, as well as improvements to existing clinical laboratory methods. RADx will support the full range of product development including technology validation, clinical translation, commercialization, and product distribution.
Our new program, open to all researchers, is now accepting proposals with the goal to have millions of tests per week available for all Americans by late summer/fall. Information and instructions for submitting a proposal can be found on the POCTRN/RADx website. General information about the RADx program can be found on our News page and RADx FAQs.  
Previously, NIBIB received $60 million in new resources via the third supplemental appropriation from Congress, specifically for accelerating COVID-19 activities. We can significantly contribute to this global effort by creating, adapting, and applying technologies that address critical unmet needs revealed by COVID-19.  
NIBIB's goal is to accelerate research, translation, and commercialization of technologies that will make a difference in this battle. In addition to our launch of the RADx program, we will continue to support several areas of technology development outlined in our three Notices of Special Interest (NOSIs). These mechanisms will be used to advance a broad range of topics including the following:
Rapid POC and home-based testing/diagnostics 
Wearable, implantable, and remote sensors/imagers for physiological monitoring
Medical imaging technologies and algorithms/artificial intelligence (AI) for rapid detection, diagnosis, and monitoring of lung infection
Non-contact sensing and imaging for rapid mass screening and vital sign assessment
Digital health platforms and models that integrate data, assess risk, and provide illness surveillance and management tools
Technologies (including simulation platforms) for training healthcare workers and optimizing clinical workflows
Robotic and automation technologies to limit caregivers' exposure and/or reduce the burden on the health care system
Technologies for protecting healthcare workers, first responders, and caregivers
Oxygenation systems (e.g. ECMO, ventilators, intubation) and components designed for rapid deployment, access, and potential operation by minimally trained personnel
High-confidence disinfection technologies 
Novel therapeutic strategies using engineered biological systems, including cell-based and synthetic biology technologies.
You can access the three Notices of Special Interest (NOSI) for details and instructions on how to apply. We anticipate a fast turn-around for supplement requests and strongly encourage contacting NIBIB program directors with your ideas prior to submitting.
NIBIB stands at the crossroads of multiple biomedical imaging and bioengineering communities. Our goal is to galvanize them by providing a pipeline for promising technologies. As a next point in the pipeline, the Biomedical Advanced Research and Development Authority (BARDA), part of HHS, is soliciting proposals for advanced development and licensure of COVID-19 diagnostics, vaccines, or medicines such as therapeutics or antivirals.
I was pleased to see an exciting new tool now available for the research community to respond to the coronavirus pandemic: the NIH National Library of Medicine has collaborated with others to offer the COVID-19 Open Research Dataset (CORD-19), an extensive collection of more than 29,000 coronavirus scientific articles available in a machine-readable format that artificial intelligence experts can mine for answers to questions about the virus and the disease it causes.
In this era of fast full-genome sequencing, rapid development, and detailed knowledge of the SARS-CoV-2 structure, we can do better than current pandemic countermeasures that have been practiced for hundreds of years. Bioengineers must come together to bridge this gap between "social engineering" and "basic biological science" by developing powerful and deployable technologies. I look forward to working together as we leverage our ideas and experiences into creative solutions that can help overcome this global crisis. We call on you to bring new insights and innovative technologies to attack this disease and make us all stronger and better prepared for the future.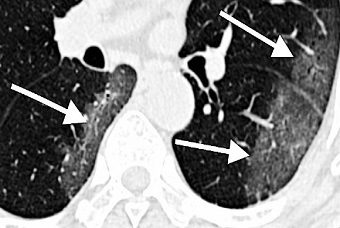 NIBIB's latest investment to fight COVID-19 is a collaborative network using medical imaging and clinical data sciences to reveal unique features of this disease.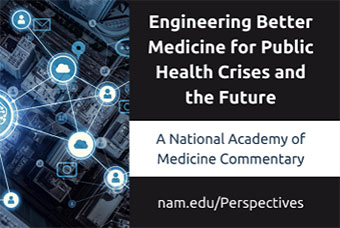 Former NIBIB Director calls for collaboration among engineers and health professionals to address complicated challenges, including COVID19.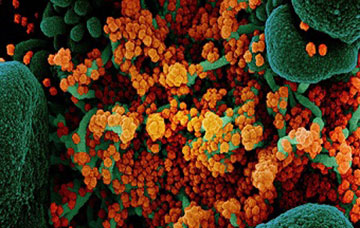 Dr. Tromberg joins the NIH Director to outline how RADx is working to vastly scale up testing for COVID-19 in a NEJM article.
Bruce Tromberg appears in Episode 12 of the Francis Collins Home Edition video blog, providing an update on Rapid Acceleration of Diagnostics—or RADx—NIH's efforts to develop and deploy new methods of diagnostic testing for COVID-19.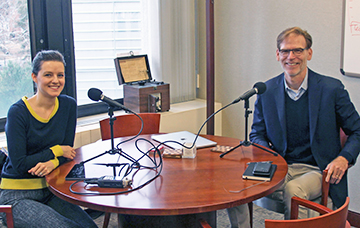 Hear Bruce Tromberg's interview with Amy Kluber, host of GovCast, about the convergence of engineering and the physical and life sciences. GovCast (Feb. 12, 2020)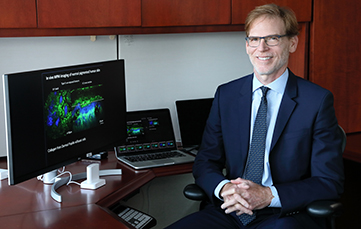 Bruce J. Tromberg, Ph.D., is Director of the National Institute of Biomedical Imaging and Bioengineering (NIBIB) at NIH, a post he assumed in January 2019. He is a pioneering leader in the field of biophotonics.