Posted on
NIBIB is proud to be one of the co-sponsors of the exciting new NIH Common Fund initiative Bridge2AI which aims to dramatically advance widespread adoption of artificial intelligence (AI) as a tool for biomedical research. As the director of the engineering institute at NIH, I am pleased to say that our community plays a special role in this initiative.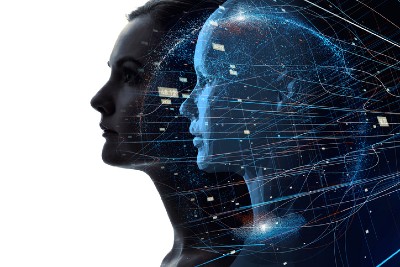 One of the unifying characteristics of biomedical engineers is our commitment to the idea that biological processes can be represented symbolically, by mathematical equations, that have explainable free parameters. With enough measurements and the right equations, we believe it's possible to understand and predict the behavior of any complex biologic system.
Of course, in reality, we never seem to have enough measurements, and though we may have equations that work under perfect conditions, biological process almost always distort the ideal physics behind the math. Fortunately, that's where AI can come in and drive major advances.
Through the Bridge2AI initiative NIH hopes to accelerate the observations and computational approaches needed to harness the power of AI to describe the emergent properties of complex biologic systems. Imagine, quantitative computational representations, or digital twins, of a wide range of biologic processes, from single cells to organs to entire humans. This could have enormous impact in achieving advancements in both basic science and the practice of medicine.
In addition to helping us understand emergent properties, Bridge2AI could be a game changer for diagnostic and therapeutic technologies that rely on the precise tracking and delivery of energy into or emanating from the body.
The many ways tissues can distort our idealized equations for energy transport are well understood. However, turning those distortions into discoveries that reveal the unique fingerprints of life processes is one of our biggest challenges. In practical terms, these advances will inspire more powerful methods and technologies for disease detection, diagnosis, therapy and even prevention.
Funding opportunities are described in the following announcements:
Data Generation Projects for the NIH Bridge to Artificial Intelligence (Bridge2AI) Program (OT2) (OTA-21-008)
Integration, Dissemination, and Evaluation (BRIDGE) Center for the NIH Bridge to Artificial Intelligence (Bridge2AI) Program (U54 Clinical Trial Not Allowed)
More information can be found on the NIH Common fund Funding Opportunities page.
The Bridge2AI program is holding several Team Building Activities for potential applicants in June 2021, visit the Scientific Meetings page for details. For updates, subscribe to the Bridge2AI listserv.
It is clear that bioengineering approaches will be essential to the success of Bridge2AI. Speaking on behalf of all my colleagues at NIBIB and across NIH, we look forward to your innovative ideas and working together to realize the potential of AI to drive major advancements in biology and medicine.
View this NIH video describing the Bridge to AI program featuring Dr. Bruce Tromberg.