Andrew Weitz, Ph.D.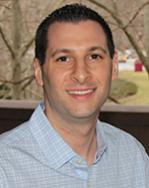 6707 Democracy Blvd., Suite 200, Room 213
Betheda, MD 20817
Biography
Dr. Andrew Weitz joined the NIBIB as a Program Director in 2017. His primary role is to provide programmatic oversight to Stimulating Peripheral Activity to Relieve Conditions (SPARC), a program focused on understanding how the body's organs are controlled by the peripheral nervous system.
Andrew received a B.S. with Honors in computer engineering from Pennsylvania State University in 2004. After graduating, he joined the startup team at Geo-Spatial Technologies, where he became lead engineer on DARPA programs to advance high-resolution 3-D imaging capabilities for the military. In 2007, Andrew began Ph.D. studies in biomedical engineering at the University of Southern California (USC). There, he developed techniques to improve vision in blind patients with bioelectronic retinal implants. After obtaining his doctorate in 2013, Dr. Weitz became a postdoc at USC, where he investigated methods for stimulating cells with focused ultrasound energy. Most recently, Dr. Weitz spent two years as a Research Assistant Professor at the USC Institute for Biomedical Therapeutics, where he was awarded two grants to investigate novel neuromodulation approaches for treating blindness. In 2017, Andrew joined the NIBIB as a Program Director for the SPARC program. Findings from this program are expected to catalyze development of new neuromodulation therapies for a range of diseases.