Ashwin Bhirde, Ph.D.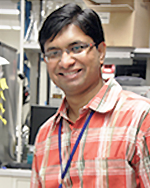 BG 9 RM 1N101 9 MEMORIAL DR BETHESDA MD 20814
Biography
Dr. Bhirde received a B.E. in chemical engineering in 1999 from Karnataka University in India. He came to the U.S. in 2003, at which time he pursued a Masters degree in the Department of Chemical Engineering at Lamar University in Texas. Completing his M.S. program in 2004 under the supervision of Professor Shyam Shukla, he later joined Professor James F. Rusling's bioanalytical group at the University of Connecticut's Department of Chemistry as a Ph.D. student. Bhirde's Ph.D. project involved biomedical applications of carbon nanotubes for disease diagnostics and therapeutics in collaboration with Drs. Silvio Gutkind and Vyomesh Patel at the National Institute of Dental and Craniofacial Research at NIH. Bhirde's research involved surface functionalization of single wall carbon nanotubes for ligand-receptor mediated anti-cancer drug delivery and cancer biomarker detection by bionanoelectroanalytical methods. After obtaining his Ph.D. in chemistry in 2009, Dr. Bhirde joined Dr. Xiaoyuan Chen's group at the National Institute of Biomedical Imaging and Bioengineering where he has since been a member of the Laboratory of Molecular Imaging and Nanomedicine. His current research is focused on development of nanomaterial based imaging and drug delivery systems for biomedical applications.