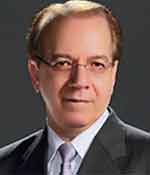 Behrouz
Shabestari
Director - National Technology Centers Program
Acting Director - Division of Health Informatics Technologies
Biography
Dr. Behrouz Shabestari is Acting Director of the Division of Health Informatics Technologies and Director of the NIBIB National Technology Centers Program. He directs the NIBIB programs in Optical Imaging and Spectroscopy, and for X-ray, Electron, Ion Beam, and Computed Tomography (CT). 
Dr. Shabestari joined the NIBIB in 2015, after 12 years as a Scientific Review Officer at the NIH Center for Scientific Review's Surgical Sciences, Biomedical Imaging, and Bioengineering Integrated Review Group. There, he was responsible for the review of applications in the development of methods for a wide variety of medical imaging modalities and bioengineering, including SPECT, PET, MRI/MRS, ultrasound, CT, photonics, image-guided surgery, CAD, image recognition algorithms, as well as hybrid approaches. He was involved in a broad range of application mechanisms, such as R03s, conventional R21s and special R21/R33s, R01s, SBIRs and STTRs, Bioengineering Research Partnerships, S10s, and P41 National Resource Center applications. Dr. Shabestari has a extensive experience in the area of industrial and medical imaging.
Dr. Shabestari served as the Director of the Advanced Imaging Group for Edison Industrial Systems Center (EISC) in Toledo, Ohio, from 1988 to 1999.  In 1999, Dr. Shabestari established AvantGarde Technology LLC (AGT), a small business engineering and consulting firm in Toledo, Ohio. While at EISC and AGT, Dr. Shabestari completed more than 90 imaging projects funded by industry directed toward improving quality and reducing costs. His projects included a multi-disciplinary grant from the National Institute of Standards and Technology Advanced Technology Program, a technology action fund for the Ohio Department of Development, and a technology development grant from American Display Consortium. Dr. Shabestari has also served as a full-time Associate Professor of Computer Engineering and Program Director at the College of Engineering at the University of Toledo.