Chris Kelley, Ph.D.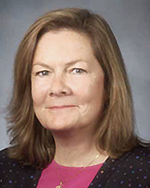 Acting Associate Director for Extramural Science Programs
BG 2DEM RM 225 6707 Democracy Blvd Bethesda MD 20817
Biography
Dr. Christine A. Kelley is the Director of the Division of Discovery Science and Technology and Acting Associate Director Extramural Science Programs at the NIBIB. She received her Ph.D. degree in Cell Biology from Boston University in 1988. Her graduate research focused on the role of pericytes in the microvasculature. From 1988-1996 Dr. Kelley conducted postdoctoral and independent research on the function and regulation of smooth muscle and nonmuscle myosin isoforms in the Laboratory of Molecular Cardiology in the National Heart, Lung, and Blood Institute (NHLBI). In 1996 Dr. Kelley became a Health Scientist Administrator in the Vascular Biology Research Group within the Division of Heart and Vascular Diseases in the NHLBI, before moving in 1998 to a position as a Health Scientist Administrator in the Bioengineering and Genomic Applications Research Group within the same Division. Dr. Kelley assumed her current position in NIBIB in March 2002.