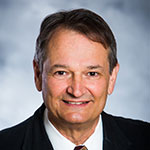 George
Zubal
Program Director
Biography
Dr. George Zubal joined the NIBIB in 2018 as Director of the Nuclear Medicine and CT Programs. He came with 8 years' experience in Contracted Research Organizations for pharma-sponsored clinical trials investigating biomarkers for studying the onset and progression of Alzheimer's and Parkinson's diseases. He owned and operated a Connecticut company (Z-Concepts LLC) which developed automated operator-independent methods of analyzing Nuclear Medicine radiopharmaceutical images and supported clinical trials studies testing radiotracers for quantifying areas of inflammation in rheumatoid arthritis. Z-Concepts also designed analysis methods for measuring generalized arterial calcification in animal models using Nuclear Medicine and CT hybrid imaging. Dr. Zubal's company was most recently associated with designing and evaluating a new generation SPECT brain camera focused on drug discovery and clinical applications.
Before his private sector work, Dr. Zubal was an Associate Professor and Technical Director of the Nuclear Medicine Section at Yale's Diagnostic Imaging Department for 20 years. During this time, he served as the Chair of the Yale NH-Hospital's Radiation Safety and Yale's Radioactive Drug Research Committees. As head of the SPECT Epilepsy Group, he developed the method of ictal-interictal localization of epileptogenic areas in the human brain, mapped onto anatomical MRI images, first used in the Neurosurgery Department for improved surgery planning for medically intractable seizures. Dr. Zubal is also known as an early developer of computerized software human phantoms used for simulating radiological imaging studies and radiation dosimetry estimates.
Dr. Zubal received his B.S. in Engineering Physics and M.Sc. in Nuclear Instrumentation from the Ohio State University. He gained a Ph.D. in Bio-Physics from the University of Saarbrucken while working at the German Cancer Research Center in Heidelberg. After his Ph.D., he was a post-doc in the Medical Dept. at Brookhaven National lab and spent 3 years as the Project Manager for camera/computer development at Picker (Philips).