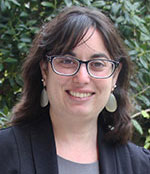 Ilana
Goldberg
Program Director
Office of Program Evaluation and Strategic Partnerships
Biography
Dr. Ilana Goldberg joined the National Institute of Biomedical Imaging and Bioengineering (NIBIB) in 2019 as a AAAS Science & Technology Policy Fellow.  She is currently a Program Director in the Division of Discovery Science and Technology. She has oversight of the bioengineering small business portfolio and the Bioengineering Technology and Research Centers.  Dr. Goldberg earned her B.S. degree from Brandeis University in Chemistry and Biochemistry, where she gained expertise in protein crystallography. She earned her Ph.D. degree from Georgetown University in solid state and analytical chemistry where she focused on the crystal growth of secondary explosives. In 2005 she was awarded a Fulbright Fellowship to study crystal engineering, polymorphism, and co-crystallization of small molecules at Ben Gurion University in Be'er Sheva, Israel.
Prior to her current position she was a project manager in Global Medical Excellence for AstraZeneca. Dr. Goldberg spent five years as senior scientist and project manager at the Johns Hopkins University Applied Physics Laboratory where she managed multidisciplinary research projects for homeland security.  Before that, she was a Postdoctoral Research Fellow at the Transportation Security Laboratory in Atlantic City, New Jersey, where she focused on the development of thermal analysis methods for energetic materials as well as the advancement of explosive detection technologies.
Dr. Goldberg is committed to supporting the development of biomedical technologies that enhance public health.