Jill Heemskerk, Ph.D.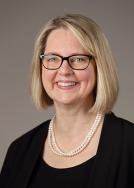 BG 2DEM RM 200 6707 DEMOCRACY BLVD BETHESDA MD 20817
Biography
Jill Heemskerk, Ph.D., has an 18-year record of distinguished service at the National Institutes of Health. She joined NIBIB in 2014 as Associate Director for Research Administration and was subsequently appointed NIBIB Deputy Director. She came to NIBIB from the National Institute of Mental Health, where she was Deputy Director for the Division of Adult Translational Research, focused on clinical trials in psychiatry. Before this, she was Acting Director of the Office of Translational Research at the National Institute of Neurological Disorders and Stroke. There, she built a large program in pre-clinical therapeutics development for neurological diseases, emphasizing drug discovery chemistry and translation of basic research findings to the clinic. She established a drug development program called the NIH Blueprint Neurotherapeutics Network, a 'virtual pharma' forum that continues to thrive as a model for academic collaboration with small businesses and the pharmaceutical industry.
Dr. Heemskerk has served on scientific advisory boards for the ALS Association, the Spinal Muscular Atrophy Foundation, and the Huntington's Disease Society of America. She earned her Ph.D. in Biochemistry and Biophysics from the University of California at San Francisco and conducted research in developmental molecular genetics at Columbia University.