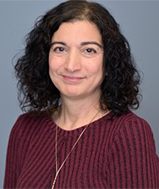 Kathy
Salaita
Acting Director, Office of Research Administration
Office Of Research Administration
Biography
Kathy Salaita, Sc.D., is Acting Director of the NIBIB Office of Research Administration. In this role, she is responsible for the supervisory management and oversight of the NIBIB National Advisory Council, Office of Grants Management, the Office of Scientific Review, Committee Management activities, and the Health Science Policy Officers for the Guide and for Clinical Trials. Dr. Salaita comes to NIBIB from the National Institute for Arthritis, Musculoskeletal and Skin Disorders (NIAMS) where she has been Chief of the Scientific Review Branch since 2013. Dr. Salaita has been active as a member of numerous trans-NIH committees; she has been Co-Chair of the Review Policy Committee, Co-Chair of the Unite E Implementation Team on Reducing and Reporting Bias in Peer Review, and a member of the Extramural Activities Working Group (EAWG) Working Group on Simplifying Review Criteria.
Prior to joining NIBIB and NIAMS, Dr. Salaita was Scientific Review Officer for the Health Services and Organization study section and a Referral Officer with the NIH's Center for Scientific Review (CSR). She is a recipient of the CSR Director's Award for Mentoring. Before joining CSR, Dr. Salaita worked as a Program Officer at the National Institute on Alcohol Abuse and Alcoholism.
Dr. Salaita earned a B.A., Sociology, from the University of Virginia; M.S., Community and Regional Planning, from the University of Texas, Austin; and Sc.D., Health Policy and Management, from the Johns Hopkins University Bloomberg School of Public Health.