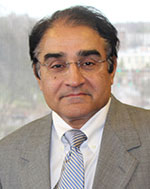 Krishna
Kandarpa
Director of Research Sciences and Strategic Directions
Biography
Krishna Kandarpa, M.D., Ph.D., is a cardiovascular and interventional radiologist, who is Director of Research Sciences and Strategic Directions at NIBIB/NIH.
Most recently, he was Chief Medical Officer/Chief Scientific Officer/EVP-R&D at Delcath Systems, Inc., New York, NY, which markets a combination device/drug treatment for cancers in the liver.
Prior to this, he was tenured Professor and Chair of the Department of Radiology at the University of Massachusetts Medical School and Radiologist-in-Chief at the UMass Memorial Medical Center. Earlier, he was at the Weill Medical College of Cornell University, where he was a Professor of Radiology and Chief of Service and Director of the Division of Cardiovascular & Interventional Radiology at The New York Presbyterian Hospital (Cornell), when he simultaneously held an adjunct professorship at the College of Physicians and Surgeons of Columbia University.
He embarked on his academic career at Harvard Medical School and was an Associate Professor of Radiology, co-director of Cardiovascular & Interventional Radiology and the Vascular Center, at the Brigham and Women's Hospital, Boston, MA. While there, he was also on the faculty of the Harvard-Massachusetts Institute of Technology Health Sciences and Technology Program.