Maria Aronova, Ph.D.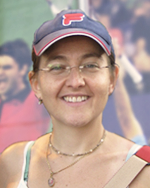 BG 13 RM 3E73 13 South Dr Bethesda MD 20814
Biography
Dr. Aronova received her Ph.D. degree in 2004 from the Physics Department at the University of Maryland in College Park. Her doctoral dissertation involved the design of novel multifunctional magnetic and electronic materials using different thin film technologies, which involved development of imaging techniques for characterizing the magnetic properties of those materials. In 2005, Dr. Aronova joined LCIMB, NIBIB, to develop compositional imaging techniques based on electron energy loss spectroscopy and energy-filtered transmission electron microscopy (EFTEM).  Dr. Aronova has combined EFTEM with electron tomography to obtain the first 3D distributions of chemical elements in cells.  She has also been using the techniques to characterize the composition and structure of theranostic bionanoparticles.