Matthew Guay, Ph.D.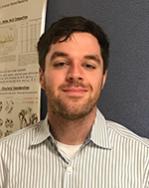 Building 13, Room 3E73
13 South Drive, Bethesda. MD 20814
Biography
Dr. Matthew Guay is a postdoctoral research fellow at the LCIMB, NIBIB, where he works on using deep neural networks to solve computer vision problems in microscopy image analysis. Matt received his Ph.D. in applied mathematics from the University of Maryland, College Park, in 2016, and his B.A. in mathematics from Cornell University in 2011. When he is not working, Matt enjoys hiking, biking, and creative coding.