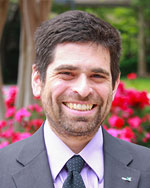 Michael
Wolfson
Program Director
Biography
Dr. Wolfson joined the National Institute of Biomedical Imaging and Bioengineering (NIBIB) in 2016 as a Program Director in the Division of Discovery Science and Technology. He has programmatic oversight of discovery and applied research grants, with emphasis on implantable and assistive medical devices.  Mike received a Sc.B. degree in electrical engineering from Brown University and a Ph.D. degree in electrical engineering from Cornell University. He is a Senior Member of the IEEE and a member of the Society for Neuroscience.  Mike specializes in performing characterization, analysis, and integration of novel biologic and microscale systems within commercial, small business, and academic R&D environments. His expertise spans multiple disciplines and covers emerging domains, such as bio-, micro-, and nano-system technologies.

From 2000 through 2009, Mike was involved in several ventures to develop microsystems technologies for commercial applications. From 2009 through 2016, he was a subject matter expert in DARPA's Microsystems Technology Office and Biological Technologies Office, supporting MEMS and neuro-technology programs. During this period, Mike consulted for several other organizations, including GlaxoSmithKline and the Bionics Institute. He brings to NIBIB substantial experience developing and managing translational neurotechnology R&D portfolios, with particular emphasis on system design principles. Mike has been instrumental in DARPA's RE-NET, HAPTIX, ElectRx, and NESD programs, as well as the GSK Innovation Challenge. He has also provided mentorship to over a dozen recipients of the DARPA Young Faculty Award.

Mike is committed to developing foundational device technologies and translational systems in order to apply them to unique physiological targets, such as the peripheral nervous system.