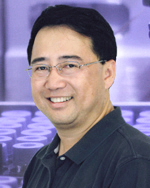 Ying
Ma
Staff Scientist
Biography
Dr. Ying Ma received a Ph.D. in Medicinal Chemistry in 1992 from Beijing Medical University, Beijing, China, and joined NIH the following year as a visiting fellow. His work with the National Heart, Lung, and Blood Institute (NHLBI), and the National Eye Institute (NEI), was in the area of analytical chemistry, developing separation methods for biologically active molecules. He obtained two patents on chiral separation and affinity countercurrent chromatography. He joined the PET Department of Clinical Center as an analytical chemist in 1999, and then moved to NIBIB's Intramural Program in 2004.
Research Interests
Dr. Ma's current research focuses on the development and application of mass spectrometry techniques for evaluation of molecular imaging probes:
Positron emission tomography (PET) is a powerful technique with the ability to measure target density changes by external imaging.  Because the imaging technique cannot differentiate between the parent and radioactive metabolites, determination of the chemical component(s) in the target tissue is required.  When designing molecular imaging probes, the metabolic fate is evaluated using hepatocytes to generate metabolites and using LC-MS to suggest metabolite structures.  From these early metabolite analyses, the chemical structure of imaging probes can be modified in an attempt to minimize interfering radiometabolites in the target tissue.
The value of LC/MS as a complementary research tool to evaluate the primary biodistribution of molecular imaging probes has been demonstrated in our lab. Due to the high sensitivity of MS for various molecules, tissue uptake of molecular imaging probes can be quantitatively evaluated at the tracer level without the need for radiolabeling. The time course of uptake and the effect of mass dose on that uptake can be determined directly and both identification and quantitation of metabolites are possible.