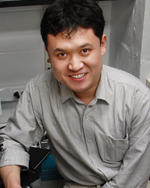 Zhe
Wang
Visiting Fellow
BG 9 RM 1N130 9 Memorial Dr Bethesda MD 20814
Biography
In 2006, Dr. Wang received his Bachelor's degree in engineering from Tianjin University, China. Subsequently, in 2010, he earned the Ph.D. degree from the National University of Singapore. Dr. Wang's doctoral projects involved work with drug delivery systems for antiangiogenesis and anticancer therapy. In 2011, Dr. Wang joined NIBIB/NIH. His current research is focusing on yeast display technology for theranostic agent discovery, and gene engineering of stem cells for brain trauma injury imaging and therapy.
Publications
Expert Opin Drug Deliv
2010 Feb
J. Am. Chem. Soc.
2009 Aug 19
Angew. Chem. Int. Ed. Engl.
2009