NIBIB is overseeing the Rapid Acceleration of Diagnostic Technologies (RADx℠ Tech) program, a $500 million effort to significantly increase testing capacity and accessibility for SARS-CoV-2, the virus that causes COVID-19.  In addition to this major effort, NIBIB is supporting several areas of technology development outlined in three Notices of Special Interest (NOSIs).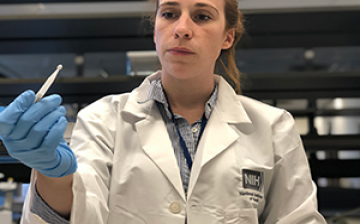 NIBIB's Dr. Kaitlyn Sadtler is a study lead and Principal Investigator working with NIH colleagues to test people who were infected with SARS-CoV-2 and developed antibodies but did not develop symptoms. Read more about the study.
RADx℠ Tech aims to bring accurate and easy-to-use COVID diagnostic tests to all Americans. NIBIB's Point of Care Technologies Research Network, or POCTRN is one of the tools in NIH's plan to accomplish this goal.
Transcripts for the video can be found on YouTube.