A partnership with the Office of the National Coordinator for Health Information Technology (ONC)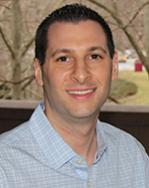 Program Director
Overview
Self-administered SARS-CoV-2 tests reflect a significant shift from traditional approaches to diagnostic testing through laboratories. This shift in how and by whom diagnostic testing is performed needs to be accompanied by a shift in how test results are reported. Unlike laboratory test results that are managed by well-established laboratory information systems, technologies that manage results from self-tests are still nascent. The number of COVID-19 tests being performed in non-traditional settings has already surpassed the number being performed in laboratories.
We describe here a reference implementation of standardized results reporting based on two principles: (1) encoding of results and associated data in a healthcare industry-standard format and (2) identifying one (or a small few) destination(s) where these results can be sent and subsequently re-transmitted to appropriate state, federal, and related health systems.
On this page:
We invite you to share comments about the site, the HL7v2 Implementation Guide, or other feedback.
What's New
Find out what people are saying about COVID self-tests.
RADx MARS leverages industry-wide HL7v2 communications standards, and is helping to lead a future transition to more versatile Fast Healthcare Interoperability Resources (FHIR).
HL7v2 resources include a detailed implementation guide, tools for identifying test-specific field parameters, and a message validator developed by NIST.
The HL7v2 IG provides detailed instructions and requirements for every message component, ensuring compliance with state and federal requirements.
FHIR support includes an implementation guide using base resources.
Home test results can be sent to multiple destinations, which may then re-route to secondary systems. The standards approach ensures that results can be de-duplicated.
Standardized reporting specifications ensure data uniformity and completeness, enabling robust data analysis to improve understanding of the testing landscape.
The MARS HL7v2 specification is supported by two data hubs. These hubs simplify the process of routing test results to the appropriate state and federal health systems.
Current FDA EUAs for home tests stipulate the need to built result reporting solutions. RADx MARS standards and workflows conform to these requirements.
FAQs
Frequently asked questions have been posted about the RADx® MARS program in general, reporting standards, and data flows.
Concept Diagram & Definitions
Digital testing application - An application, such as a smartphone app or website, that accompanies a self-test that provides guidance on conducting a test properly and a mechanism to report results.
Data communications standard - A uniform way of encoding test results and associated metadata. Healthcare industry standard communications include HL7v2 (Health Language 7 version 2) and FHIR (Fast Healthcare Interoperability Resources).
Hub - A destination where results can be sent and subsequently re-transmitted to downstream state and federal public health systems. Also known as an 'exchange' or 'clearinghouse'.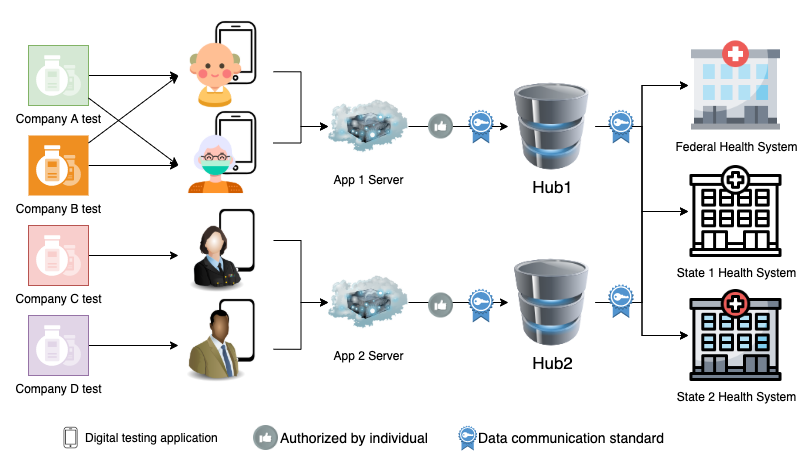 Digital Testing Applications
Digital testing applications that currently support the MARS HL7v2 specification are listed below. To request that an application be listed here, please contact Andrew Weitz (andrew.weitz@nih.gov).
Hubs
Hubs that currently support the MARS HL7v2 specification are listed below. To request that a hub be listed here, please contact Andrew Weitz (andrew.weitz@nih.gov).
APHL Informatics Messaging Services (AIMS) - This hub, developed by the Association of Public Health Laboratories (APHL), has long been used to route laboratory test results to government health systems. More recently, AIMS has added support for COVID self-administered test reporting, including the MARS HL7v2 specification. AIMS currently connects to all US states and territories.
ReportStream - This hub, created by the Centers for Disease Control and Prevention (CDC), is a free, open-source reporting solution for COVID test results. ReportStream securely stores and protects test results and patient data by two-factor authentication, database encryption, and HTTPS. Currently, ReportStream is connected to most federal, state, and local public health authorities, with a goal to integrate to all 64 public health authorities. In addition to handling reporting for laboratory and over-the-counter tests—self-administered or proctored—ReportStream has added support for the MARS HL7v2 specification.
Please visit this page for more details about the data hubs.
Data Communications Standards
HL7v2 and FHIR are two standards that can be used to encode test result messages. A comparison of these two communications standards, prepared in partnership with ONC, can be found here. Two implementation guides are available, one based on HL7v2 and another based on FHIR. The HL7v2 implementation guide is designed to be accepted by all states in the US. A FHIR implementation guide, while built and available, is not yet compatible with US public health systems.
Mobile Application Guidance
Mobile applications should encourage users to submit data for public health reporting while ensuring (1) transparency in how data is managed, (2) user control over his/her data, and (3) ease of use in taking tests and reporting results. The minimum data required to permit reporting are test result, age, and zip code. Users may voluntarily submit additional demographic information that may permit public health agencies, notably at the state levels, to better manage the pandemic response.
See Mobile Application Guidance for more details.