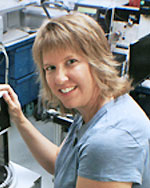 Chemist
Our unit employs a variety of techniques to isolate, identify and quantitate proteins, peptides, lipids, antibodies and other biological molecules of interest. The unit currently has a range of active projects using MALDI-TOF, single and multiplex ELISA and ICP-OES spectroscopy, including:
Using a QuansysTM imaging system to screen for up to 16 analytes from a single 50 mL sample using a multiplex ELISA
Automated ELISA system currently being used to determine seropositivity in whole blood, serum and plasma samples, including nucleocapsid testing to discriminate between native or immunized seropositivity. 96 and 384 well formats can be run.
Determining the mass of biological and chemical compounds using MALDI-TOF
MALDI-TOF imaging of frozen tissue samples to provide spatial resolution of molecules of interest, extracting unknown samples from the imaged tissues and identifying proteins, peptides and lipids using LC/MS.
Quantifying trace metals in chemical and biological samples down to a ppb level
We are located in Building 13 on the NIH campus.
Multianalyte ELISA arrays using QuansysTM imaging system
Automated ELISA assays for SARS-COV-2 seropositivity
MALDI-TOF analysis of chemical and biological molecules
MALDI-TOF imaging of tissue samples
Surface liquid extraction (SELEX) from tissue samples for analysis and identification of unknown proteins, peptides, and lipids using LC/MS
Trace metal analysis in biological samples, via Inductively-Coupled-Plasma Optical Emission Spectrometry (ICP-OES)
Micro-immunoaffinity capillary electrophoresis to quantify analyte concentrations in biological samples