Science Highlights
August 10, 2020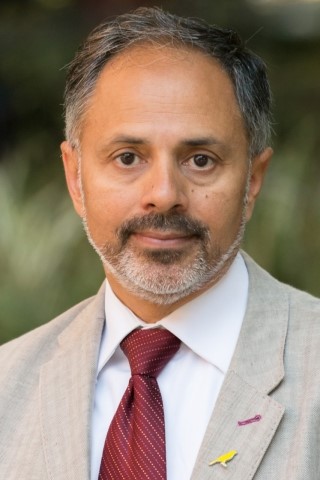 NIBIB mourns the passing of molecular imaging pioneer and NIBIB Advisory Council member, Sanjiv "Sam" Gambhir, M.D., Ph.D. Sam lost his courageous battle with cancer on July 18, 2020, at 57. He was the Virginia and D.K. Ludwig Professor in Cancer Research and chair of the Department of Radiology at Stanford University. There, he was also the director of the Molecular Imaging Program, director of the Canary Center for Cancer Early Detection, and director of the Precision Health and Integrated Diagnostics Center.
Sam's boundless energy and natural curiosity led him to father the field of molecular imaging, which has changed how we diagnose and help patients.  He was internationally renowned for his tireless efforts in the development of novel imaging methods to monitor molecular events that would help diagnose cancer at its earliest stages.
 His colleagues said that instead of treating people who were sick, he wanted to prevent them from becoming ill in the first place. The loss of his teenage son, Milan, to brain cancer drove him to work even more diligently at shifting his focus of research to precision health. At a conference focused on precision health, Sam said, "What motivates me is knowing if he'd been born 100 years from now, the tools of precision health could [have] possibly allowed him to live much, much longer. I remain optimistic that the fundamental basic science we all continue to do [will] lead to new technologies that will help reengineer our own bodies so we can detect disease early."    
His work ethic was relentless.  Sam's colleague, Michael E. Phelps, Ph.D., recalled that he would often find Sam at the lab late at night, sleeping on the PET scanner, so he could continue working.
One of his greatest scientific achievements was engineering a reporter gene for positron emission tomography (PET), a technique that creates three-dimensional images of tissues and organs that may indicate an irregularity, such as cancer.  PET reporter genes allow small, molecular changes that occur deep inside the body to be seen by a radiologist. The technology has been crucial in monitoring immunotherapies, including the promising CAR-T therapy.
Many researchers create technologies that never get translated to medical practice, sometimes due to cost to the patient or medical provider. Sam was credited as one of the individuals who helped establish PET imaging as standard practice in the clinic. He worked with the government to guarantee that government insurance programs would reimburse PET imaging.  His efforts were fundamental in solidifying PET imaging as a universal method for cancer diagnostics.
Gambhir received his bachelor's degree in physics from Arizona State University at 18 years old, followed by his M.D., and Ph.D. in biomathematics at the University of California Los Angeles (UCLA). His first academic appointment was at UCLA, where he was appointed a tenured professorship. He moved to Stanford University in 2003 and was named Virginia and D.K. Ludwig Professor in Cancer Research and chair of the Department of Radiology at Stanford University.
"Sam was an extremely accomplished scientist, and his remarkable work will continue to inform and empower the field of imaging in early disease diagnostics for years to come," said NIBIB Director Bruce Tromberg, Ph.D.  "He will be greatly missed in the imaging and health community, and here at NIBIB."   Gambhir was a National Institute of Biomedical Imaging and Bioengineering (NIBIB) grantee for more than ten years and had been serving on the NIBIB Advisory Council since 2018.
Throughout his career Gambhir mentored more than 150 students. His  mentorship style and determination to make life better for patients was recounted in a memory from Michelle James, Ph.D., one of his former lab members: "He would often start lab meetings by saying, 'I want you to all remember why we're here. If anyone has forgotten, let me know and you can come over to the clinic with me -- because there are real people on the other side of this who are suffering, and that is who we're trying to help.'" 
He authored nearly 700 peer-reviewed scientific articles, filed over 40 patents, and founded or co-founded three biotechnology companies. His work was often featured on the cover of the top scientific journals. He received numerous prestigious awards for his scientific accomplishments and groundbreaking advances in imaging.
NIBIB extends sincerest condolences to Sam's wife, Aruna Gambhir, and to his family.