Science Highlights
January 19, 2021
Open access to anonymized CT scans and X-rays aids development of AI prediction models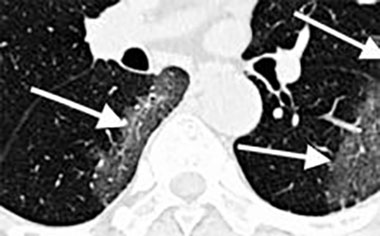 The Medical Imaging and Data Resource Center (MIDRC), a collaboration of leading medical imaging organizations funded by the National Institute of Biomedical Imaging and Bioengineering (NIBIB), has launched a repository of imaging data to facilitate medical imaging research on COVID-19. In response to the urgent need for access to imaging data from patients with COVID-19, MIDRC published an initial set of images of COVID-19-positive chest CT scans. The eventual repository—to include CT scans and x-rays— is planned to be to the largest open database of anonymized COVID-19 medical images, along with associated clinical data, in the world.
The imaging data is a free resource for research and education communities world-wide to study, use in development of artificial intelligence (AI) and deep learning tools, and serve as a reference to enhance clinical recognition of COVID-19.
"The radiology community is working with remarkable speed and cooperation to facilitate this imaging resource and put it into the hands of researchers and tool developers," said Krishna Kandarpa, M.D., Ph.D., director of NIBIB Research Sciences and Strategic Directions. "Each set of medical images and clinical data that is added to the collection is a valuable asset in developing tools to interpret cases and inform critical clinical decisions for COVID-19 patients."
The release of this initial set of images is led by the Radiological Society of North America (RSNA), which in mid-2020 established the RSNA International COVID-19 Open Radiology Database (RICORD), whose goals include building this resource of freely available COVID-19 medical images. RICORD is currently processing additional contributions to the new data set.
RICORD, in turn, has teamed with the Society of Thoracic Radiology to source the initial 120 CT scans from four international sites. The initial image set was released this past December through the The Cancer Imaging Archive, a resource of the National Cancer Institute that traditionally de-identifies and hosts a large archive of cancer images, and is temporarily dedicating a portion of its archive to COVID-19 related datasets.