Science Highlights
January 12, 2021
New awards expand the range of diagnostic testing platforms and address supply shortages
The National Institutes of Health has awarded three new contracts totaling $36.7 million for the development of new COVID-19 diagnostic testing technologies and production of specimen collection kits and swabs. The Rapid Acceleration of Diagnostics (RADx) initiative has advanced the scale-up of 25 testing projects since July 2020, which now include lab-based, point-of-care, and potential at-home formats.   
NIH launched the RADxSM initiative to speed innovation for COVID-19 testing. There are four RADx programs: 
During a 15-week span earlier this year, the RADx Tech program solicited and received more than 700 proposals from diagnostic device developers at universities and businesses—from start-ups to large companies—proposing new diagnostic technology concepts to address the urgent need for COVID-19 testing. The program qualified 137 of the proposed ideas to enter a deep dive evaluation, of which 47 emerged for further development and validation. The newly awarded projects move now to the next phase of scale-up and commercialization.
"NIH's RADx initiative has sparked innovation and produced an impressive array of COVID-19 test platforms—from lab-based to point-of-care, and soon to follow at-home tests," said Bruce Tromberg, Ph.D., director of the National Institute of Biomedical Imaging and Bioengineering (NIBIB), and leader of RADx Tech, one of the four components of the NIH RADx initiative. "Along with sophisticated diagnostic tools, we also have tapped into products that address supply shortages, continuing our support to speed and augment public health efforts to contain the virus and return the nation to normal activities."
This announcement includes testing technologies for the point-of-care, as well as the potential for at-home test administration. As well, RADx Tech announced support for technologies that will enhance the collection of specimens, an integral aspect of the diagnostic testing process.
New sample collection methods to overcome swab shortages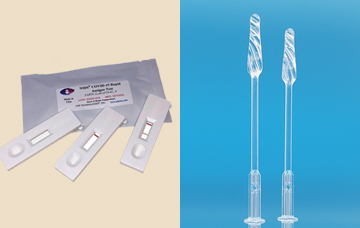 Shortages of essential supplies—from personal protective equipment for healthcare workers and ventilators for patients—have compounded already difficult logistics in responding to the COVID-19 pandemic in the United States. With increased demand for diagnostic tests, supply deficits for specimen collection swabs and kits have also posed problems. RADx support for alternatives to standard swabs will help meet the high demand and alleviate supply bottlenecks.
Oasis Diagnostics Corporation, Vancouver, Washington
Unique saliva and cheek swab collection kits used with multiple types of testing platforms, such as RT-PCR, antigen, and next-generation sequencing. The collection kits purify saliva specimens, mitigating various problems related to viscosity and impurities. The collection kit can be used for at-home, self-collection, or at the point-of-need, as samples remain stable at room temperature.
Yukon Medical, Durham, North Carolina
Three swab types—for nasal, mid-turbinate, and nasopharyngeal samples—are designed for optimal sample collection and maximum release and can be used with multiple testing methods. The swabs also have a breakpoint that can be customized to the specific diagnostic test to reduce the risk of sample contamination. Nasopharyngeal swabs require administration by a healthcare professional, mid-turbinate swabbing requires clinical observation, and nasal swabs allow at-home, self-collection.
New rapid antigen tests for point of care with potential at-home test formats
ANP Technologies, Newark, Delaware
A lateral flow immunoassay platform technology that detects SARS-CoV-2 antigens in nasal samples. The rapid antigen test delivers results in 15 minutes at the point of care and is being validated for potential at-home use.
Quidel, San Diego
RADx Advanced Technology Platforms (RADx-ATP) expanded its earlier contract with Quidel to now include the QuickVue SARS Antigen Test, for which the U.S. Food and Drug Administration granted emergency use authorization on Dec. 18, 2020, for use in point-of-care settings. (The original contract announced this past summer was for Quidel's Sofia SARS Antigen FIA test kit.)
The QuickVue test uses a dipstick—a simple paper-like test strip that is dipped into a specimen tube—to detect SARS-CoV-2 antigens in nasal samples. Results are displayed in 10 minutes without a specialized electronic reader. It will be offered for a competitive price and in quantities that permit broad distribution in the United States. The test is undergoing further validation for potential at-home use.
---
The NIH RADx initiative is comprised of four programs that address COVID-19 pandemic challenges and corresponding responses from the scientific community. The RADx Tech and the RADx Advanced Technology Program leverage the Point-of-Care Technology Research Network (POCTRN) administered by NIBIB and spanning multiple leading universities, to manage, evaluate, and validate technologies.   In addition, RADx initiative partnerships with federal agencies, including the Biomedical Advanced Research and Development Authority, the Office of the Assistant Secretary of Health, Department of Defense, and FDA are critical to RADx initiative success.