Press Releases
September 2, 2020
New laboratory and point-of-care tests to enable access and rapid results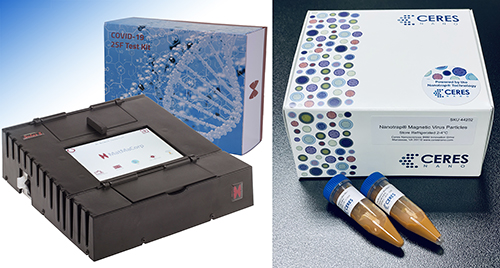 The National Institutes of Health today announced $129.3 million in scale-up and manufacturing support for a new set of COVID-19 testing technologies as part of its Rapid Acceleration of Diagnostics (RADx) initiative. NIH is awarding contracts to nine companies for technologies that include portable point-of-care tests for immediate results and high-throughput laboratories that can return results within 24 hours. These tests add to initial awards made to seven companies on July 31, 2020.
"Diagnostic testing is a critical component of the nation's strategy to meet the challenge of the COVID-19 pandemic," said NIH Director Francis S. Collins, M.D., Ph.D. "Just started at the end of April, the RADx initiative has moved swiftly to speed innovation and later-stage development in the biomedical technology sector. The results thus far have been outstanding."
In addition to NIH support, aspects of some of the testing technologies have been supported by the Biomedical Advanced Research and Development Authority, also in the Department of Health and Human Services, and by the Defense Advanced Research Projects Agency, in the Department of Defense.
"One of the many facets of our testing strategy is to support and enable innovation," said Adm. Brett P. Giroir, Assistant Secretary for Health. "The new technologies being funded today have the potential to transform the diagnostics landscape if their promise is proven in clinical studies.  This all-of-government approach to testing innovation including DARPA, BARDA, NIH, HHS, and the private sector will yield benefits not only for the current pandemic, but for diverse acute and chronic diseases Americans fight every day."
Today's contracts support several novel technologies, some that use RT-PCR, a highly sensitive way to qualitatively detect nucleic acid from SARS-CoV-2. Included is a portable, battery-powered RT-PCR device that gives accurate results in 15 minutes, and a portable mini-lab with reagent flexibility that can perform RT-PCR assays in community hospitals and clinics in underserved, rural populations. Additional technologies include a lateral-flow immunoassay test strip that can be read without specialized equipment (similar to home pregnancy tests) and a sample concentrating method that significantly improves the sensitivity and performance of many different types of tests. Five high-throughput laboratories will provide an expanded network of coverage for fast-turnaround laboratory tests in regions of national need. Each of these labs will manage the collection, analysis, and reporting of tens of thousands of tests per day at each site, significantly expanding national testing in September.
"Many of these tests incorporate innovations that have moved from research labs to the point of care with unprecedented speed," said Bruce J. Tromberg, Ph.D., director of the National Institute of Biomedical Imaging and Bioengineering (NIBIB) and lead for RADx Tech, one of four programs of the NIH RADx initiative. "That process normally takes years, but RADx has brought together key experts in technology, medicine and commercialization to bring new tests to market in only 5 to 6 months."
NIH is developing and supporting this diverse group of tests to meet the needs of different communities.  Factors such as speed, cost, accessibility and technical performance are key considerations for RADx support. These new technologies collectively will significantly increase the number, type and availability of tests by millions per week by this fall.
"The opportunity to scale up high-throughput laboratories and rapid point-of-care tests to meet the needs of communities all around the country is critical," said Rick A. Bright, Ph.D., senior advisor to the NIH director and lead for the RADx-Advanced Technology Platforms (ATP) program. "The RADx initiative reflects the scientific ingenuity, technical diversity and logistical capabilities of the private sector at its finest."
The following companies have achieved key RADx milestones and will receive support for manufacturing and scale up:
Point-of-care tests
MatMaCorp, Lincoln, Nebraska
A portable mini-lab that can rapidly perform multiple RT-PCR assays in a single platform. This technology can be used with multiple sources of reagents and is targeted for community hospitals and clinics in underserved, rural populations.
Maxim Biomedical Inc, Rockville, Maryland
A single-use, lateral-flow test strip immunoassay that can provide results in 15 minutes or less. With the improved workflow, the assay can be performed without an instrument for reading and does not require any specialized equipment.
MicroGEM International, Charlottesville, Virginia
A portable, point-of-care device that detects SARS-CoV-2 in saliva samples using RT-PCR in 15 minutes. The test uses a microfluidic cartridge with the potential for simultaneous detection of multiple pathogens such as influenza.
Lab-based tests
Aegis Sciences, Nashville, Tennessee
A novel coronavirus nucleic acid detection kit and distribution system for high through-put testing that uses nasal and oral swab samples. Has recently quadrupled capacity to 15,000 samples per day and will soon reach 60,000 samples per day. After receipt of samples, these tests will return results in 24 hours or less on average.
Broad Institute, Cambridge, Massachusetts
A high-throughput RT-PCR COVID-19 viral test using specimens from nasal swabs that will be scaled up. Its facility already performs tests for more than 530 regional hospitals, nursing homes, shelters, community health centers, senior living facilities and at state and city collection sites in vulnerable communities. The award is helping to increase from 25,000 to 100,000 tests per day.
Ceres Nanoscience Inc, Manassas, Virginia
A sample prep method using Nanotrap particles that extracts and concentrates viral material to reduce processing time and improve sensitivity. This method can be used on a variety of testing platforms, from point-of-care systems to high-throughput laboratory processes, to improve speed and performance by 2- to 10-fold.
Illumina, San Diego, California
Automated sample processing and next-generation sequencing technology for COVID-19 testing that will be scaled up. Its high-throughput capacity can be expanded to 48,000 tests per day. Upon receipt of samples at the laboratory, the company can process results for the Illumina COVIDSeq test within 24 hours.
PathGroup, Nashville, Tennessee
Uses Roche 6800 and Hologic Panther instruments to currently process about 10,000 COVID-19 RNA tests a day. Has infrastructure in place in 20 states throughout the U.S. Southeast and Midwest. They have partnered with ThermoFisher, LGC and Illumina to add additional instrumentation and automation to increase the daily number of COVID-19 tests performed to 80,000 by December 2020.
Sonic Healthcare USA, Austin, Texas
Expanded scope and expedited timeline of a framework for large-scale COVID-19 RT-PCR testing platforms and distribution capacity. With a network of regional testing hubs located in various clinical settings and geographic areas, the company can simultaneously deploy multiple test platforms and methodologies. Using specimens from predominantly nasal swabs, they will continue to add capacity to reach about 166,000 samples tested per day with new high-throughput technology.
About the Rapid Acceleration of Diagnostics (RADx) initiative: The RADx initiative was launched on April 29, 2020, to speed innovation in the development, commercialization and implementation of technologies for COVID-19 testing. The initiative has four programs: RADx Tech, RADx Advanced Technology Platforms, RADx Underserved Populations and RADx Radical. It leverages the existing NIH Point-of-Care Technology Research Network. The RADx initiative partners with federal agencies, including the Office of the Assistant Secretary of Health, Department of Defense, the Biomedical Advanced Research and Development Authority, and U.S. Food and Drug Administration. Learn more about the RADx initiative and its programs: www.nih.gov/radx.
About the National Institute of Biomedical Imaging and Bioengineering (NIBIB): NIBIB's mission is to improve health by leading the development and accelerating the application of biomedical technologies. The Institute is committed to integrating the physical and engineering sciences with the life sciences to advance basic research and medical care. NIBIB supports emerging technology research and development within its internal laboratories and through grants, collaborations, and training. More information is available at the NIBIB website: https://www.nibib.nih.gov
About the National Institutes of Health (NIH): NIH, the nation's medical research agency, includes 27 Institutes and Centers and is a component of the U.S. Department of Health and Human Services. NIH is the primary federal agency conducting and supporting basic, clinical, and translational medical research, and is investigating the causes, treatments, and cures for both common and rare diseases. For more information about NIH and its programs, visit www.nih.gov.
###
NIH...Turning Discovery Into Health