Press Releases
September 18, 2023
Challenge seeks point-of-care or home-based approaches to improve fetal health outcomes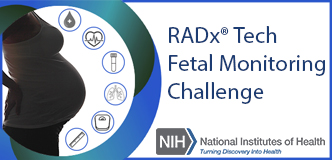 The National Institutes of Health will award up to $2 million in cash prizes to accelerate development of diagnostic and monitoring technologies that improve fetal health outcomes in low-resource settings. The Rapid Acceleration of Diagnostics Technology (RADx® Tech) Fetal Monitoring Challenge calls on scientists, engineers, and clinicians around the country to submit their innovative approaches and compete for prizes and additional resources to support technology development and clinical impact. The challenge is sponsored by the NIH's National Institute of Biomedical Imaging and Bioengineering (NIBIB), the Eunice Kennedy Shriver National Institute of Child Health and Human Development (NICHD) and the Bill & Melinda Gates Foundation. Submitted technologies will be evaluated at multiple stages as they vie for final prizes of up to $750,000.
Monitoring fetal health status in the later weeks of pregnancy and during labor is not conducted evenly across the country and around the world, and few novel diagnostic and monitoring tools have emerged in recent years. Globally, there are approximately 2 million stillbirths every year, and over 21,000 occur annually in the United States, with 40% occurring after the onset of labor. The RADx Tech Fetal Monitoring Challenge is seeking innovation in point-of-care and home-based diagnostic and monitoring technologies that may reduce fetal health risk and loss during the late antepartum and/or intrapartum periods of pregnancy. This need is especially urgent in low-resource areas where access to high-quality prenatal care is limited.
"By bringing attention to an unacceptable state of care, we hope to inspire innovators to engineer solutions for accurate, cost-effective, and safe fetal monitoring and diagnostic approaches," said Bruce Tromberg, Ph.D., director of NIBIB. "The goal is safer birth outcomes—focusing on the health of the fetus in the latter stages of pregnancy, when easy-to-use technologies might detect the need for specific medical care."
Successful technologies developed in this challenge will directly measure one or more parameters of fetal health status and have strong potential for accessible, cost-effective use and impact in low-resource settings. Examples of desired technologies include, but are not limited to, wearable devices, smartphone-enabled diagnostic tools, photonic or acoustic imaging devices, integrated sensor technologies, and in vitro diagnostic devices or tests.
"The challenge mechanism goes beyond the typical grant process to quickly bring together diverse voices to spur innovation," said Diana W. Bianchi, M.D., director of NICHD. "We are looking for health tech solutions that meet the needs of pregnant individuals in their own homes and communities."
The competition opens Sept. 18, 2023, and submissions are due by Nov. 17, 2023. Up to 10 semifinalists will be awarded a $5,000 prize each and invited to deliver a live presentation and technology demonstration to NIH, the Bill & Melinda Gates Foundation, and other experts. Up to six finalists will emerge with prizes of $75,000 each and the opportunity to compete in the final phase, a technology development sprint. During this last phase of the challenge, finalists will race to advance their technologies and address any risks to development as they compete for their share of the remaining $1.5 million in grand prizes.
The challenge is open to any U.S.-based innovator or organization that can demonstrate the feasibility and readiness of its technology to have a reasonable likelihood of market entry within the next five years and have strong potential for accessible and cost-effective use in low-resource settings. Teams may include start-ups, small- or mid-size businesses, non-profit organizations and academic institutions. Visit Challenge.gov for additional details about technology requirements, eligibility, rules, and how to register.
###
About the National Institute of Biomedical Imaging and Bioengineering (NIBIB): NIBIB's mission is to improve health by leading the development and accelerating the application of biomedical technologies. The Institute is committed to integrating engineering and physical science with biology and medicine to advance our understanding of disease and its prevention, detection, diagnosis, and treatment. NIBIB supports emerging technology research and development within its internal laboratories and through grants, collaborations, and training. More information is available at the NIBIB website.
About the Eunice Kennedy Shriver National Institute of Child Health and Human Development (NICHD): NICHD leads research and training to understand human development, improve reproductive health, enhance the lives of children and adolescents, and optimize abilities for all. For more information, visit https://www.nichd.nih.gov.
About the National Institutes of Health (NIH): NIH, the nation's medical research agency, includes 27 Institutes and Centers and is a component of the U.S. Department of Health and Human Services. NIH is the primary federal agency conducting and supporting basic, clinical, and translational medical research, and is investigating the causes, treatments, and cures for both common and rare diseases. For more information about NIH and its programs, visit https://www.nih.gov.